Katsuya Yokoyama was one of the greatest masters of the shakuhachi in Japan today. He was born in Shizuoka Prefecture in 1934 and studied Kinko-ryu and Azuma styles of music with his father, Rampo Yokoyama, and grandfather, Koson Yokoyama.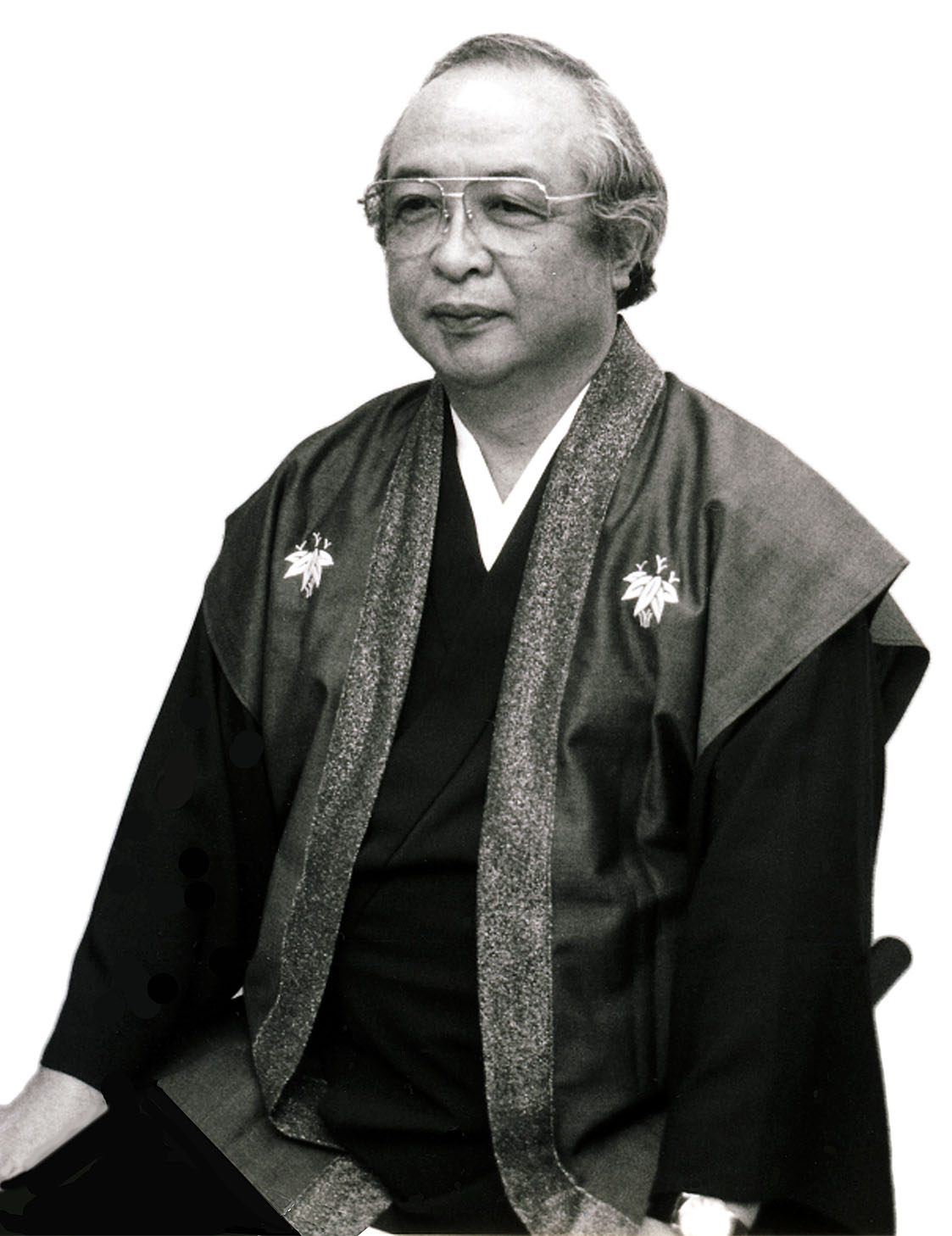 At the age of 25, Yokoyama began to study with Fukuda Rando, founder of the Azuma School and with Watazumido-doso Roshi, a legendary Fuke master who sought to synthesize shakuhachi music and spirituality within the context of Zen Buddhism. Guided by these two eminent masters, Yokoyama was able to combine the modernism of Rando with the deeply religious traditional spirit of Watazumido in his training. With this foundation, he came to develop a remarkably powerful and creative style that embodied both ends of the continuum. A true descendant of the Kinko tradition transmitted down through the generations, he also pioneered a revolution in modern music that swept across post-War Japan.
In 1960, Yokoyama completed his studies at the NHK Japanese Traditional Music Training Center. Oone year later, he formed Shakuhachi San-Jyuso-dan with Kohachiro Miyata and Minoru Muraoka, a trio devoted to furthering new music for the instrument. In 1963, he founded the Nihon Ongaku Shudan (Japanese Music Group) and Shakuhachi Sanbon-kai (Group of Three Shakuhachi ) with Kinko master Aoki Reibo and Tozan master Hozan Yamamoto. This historic group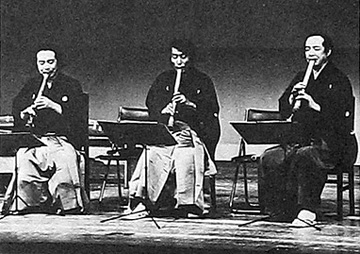 helped to establish a new genre of music for shakuhachi trio.
In 1967, Yokoyama was selected by the renowned composer Toru Takemitsu to perform the premiere of November Steps, his modern composition for shakuhachi, biwa and orchestra led by Seiji Ozawa and the New York Philharmonic. Since its opening over thirty five years ago, Yokoyama has performed this epic piece hundreds of times around the world.
Katsuya Yokoyama founded the Chikushin-kai Shakuhachi Guild. He has been the recipient of many prestigious awards, amongst them the Geijutsu Sen-sho (Art Award) in 1971, the Geijutsu-sai Yushu-sho (Art Excellence Award) in 1972, the Geijutsu-sai Tai-sho (Art Festival Grand Prize) in 1973 given by the Agency for Cultural Affairs and the Ongaku no Tomo-sha Award in 1991.
In 1988, Yokoyama founded the Kokusai Shakuhachi Kenshukan (International Shakuhachi Training Center) located in Bisei-cho, Okayama, Japan where he hosted the first International Shakuhachi Festival in 1993. This event precipitated founding of the World Shakuhachi Society and Festival held in Boulder, Colorado in 1998. At this gathering, five of the world's greatest shakuhachi masters, including Yokoyama, performed in a single venue for the first time ever.
In 2002, the Japanese government honored Yokoyama for a lifetime of achievement by awarding him the esteemed Shiju Hosho (Purple Ribbon Medal) award.
Katsuya Yokoyama passed away on April 21, 2010, leaving a rich legacy of shakuhachi tradition as a gift to the world.
---
Yokoyama-sensei writes about this edition:

"Using the fingering charts along with the scores themselves, players from any shakuhachi school or lineage should be able to play the songs. Honkyoku have free rhythm, so the player will have to listen to examples of the song being played, then intuitively grasp the timing or ma of each phrase for themselves. Notes on the playing techniques have been included. We chose a form of writing that make it easy to visually grasp aspects such as the length of the notes, the speed of the ornamental sounds and pitch changes. We did not use the symbols that express rhythm, which differ from school to school. The symbols for the notes themselves are written in the Kinko style, but use of the fingering chart should enable players from any school to adapt easily.

"The 1.8 shakuhachi is the most common length, making it the best reference for any self-learner. In truth, however, the spirit of each honkyoku is best expressed on its own length flute. This judgment is highly subjective, so we cannot prescribe a specific flute length for each song. But, in general, we can state that a flute length of 2.1 or greater will result in a better feeling for these pieces. We highly recommend longer flutes. With a little practice, even those with smaller physiques should be able to play a length of at least 2.4 with no problems.

"Due to the fact that honkyoku have been passed on by oral transmission, there are many songs with the same title but different melodies as well as songs with different titles but the same melody. The names of songs used here are as transmitted me. Remember that interpretation of the songs will differ completely from player to player during actual performance. It is important for those who use the scores to understand the characteristics of classical honkyoku. This collection of honkyoku has been published as one reference amongst many in order to give players an opportunity to deepen their understanding of classical shakuhachi honkyoku."
---
Table of Contents
Introduction
Characteristics of Honkyoku
Concerning the Honkyoku Scores
About the Scores
Conclusion
Classical Shakuhachi Honkyoku Scores
The Notes
Note Extension Lines
Symbols and Notation
Korokoro Techniques
Important Remarks
Non-Vibrato
The Correct Pitch for Meri Sounds
Practicing Honkyoku
Ha-Ro: From the Basic to the Sublime
Chi-Ru or Eru no Te
The Rhythm of Tatami-Komi
Glossary
This edition also includes a detailed Fingering Chart correlating Japanese cursive and Western 5-line staff notation.
YS-1 scores. 11" x 17" format. Complete set is packaged in a hard cover 3-ring binder notebook. Published by Tai Hei Shakuhachi. ISBN 0-9722878-9-2

---
Music Notation for Sokkan
---
List of Classical Shakuhachi Honkyoku Scores, Sheet Music & Three-CD Set

This 3 CD set includes all of the pieces in the accompanying collection of sheet music.
All honkyoku are performed by Katsuya Yokoyama on a 1.8' shakuhachi.
Each score is printed on 11" x 17" folder. Some pieces require two folders.

Volume 1

Number

Title

Pages

Time

1

Azuma Jishi

1

2:58

2

Nezasa Shirabe

1

3:11

3

Nezasa Sagariha

1

4:11

4

Tamuke

1

4:47

5a/b

Sanya [Version 1]

2

7:40

6

Shingetsu

1

5:55

7a/b

Sanan

2

7:40

8

Yamagoe

1

5:03

9

Koden Sugumori (Suzuru)

1

5:00
Volume 2

Number

Title

Pages

Time

10a/b

Koku

2

12:04

11

Daha

1

5:12

12

Sokkan

1

5:01

13

Sanya [Version 2]

1

10:30

14a/b

Hifumi Hachigaeshi

2

8:024

15

Honshirabe

1

3:236

16

Tsuru no Sugomori

1

6:123
Volume 3

Number

Title

Pages

Time

17a/b

Shoganken Reibo

2

11:28

18a/b

Reibo

2

11:17

19a/b

Ukigumo

2

8:55

20

Shika no Tone

1

9:42

21a/b

Takiochi

2

6:32

22a/b

Kumoi Jishi

2

3:55
---

Also available, this excellent complement to Yokoyama's comprehensive 3-volume edition, SHAKUHACHI KOTEN HONKYOKU: Practice, Techniques & Notation as well as the performance video KATSUYA YOKOYAMA PLAYS RANDO FUKUDA: Excellent Pieces for Shakuhachi.
---

---

---
In these extraordinary teaching videos, Katsuya Yokoyama (1934-2010) founder of Kokusai Shakuhachi Kenshukan, performs in their entirety eight of the most important shakuhachi honkyoku pieces.

The International Shakuhachi Training Center in Beisei, Japan was originally conceived and founded by Yokoyama Katsuya, one of the premier shakuhachi players, teachers and stylists of the 20th century. His driving vision was to establish a study group that would be truly international in scope, and to create a training center in Japan that would attract students from the world over to come and learn classical honkyoku as he taught it.

These videos were recorded some years ago by Yokoyama-sensei as an aid to his students at the KSK. They are not merely performance videos, but an invaluable resource including Yokoyama playing the main honkyoku pieces on a classical size 1.8' shakuhachi, as well as discussing nuances and key elements of the music from his unique perspective. They serve as an excellent complement to Yokoyama's comprehensive 3-volume edition, SHAKUHACHI KOTEN HONKYOKU: Practice, Techniques & Notation

Volume 1
Koden Sugomori, Sanya, Sagariha, Tamuke
V-33 / 56 min. 6 sec.

Volume 2
Hifumi Hachigaeshi, Shingetsu, Koku, Sokkan
V-34 / 68 min. 31 sec.

Both Volumes 1 & 2 are Japanese Language with Superimposed Subtitles
in English, French, German & Spanish

Recorded in NTSC quality video standard, these DVDs are Region Free, so playable on devices worldwide.

---

Coming Soon

Volume 3
Yamagoe, Daha, Neza-Shirabe, San-An

Volume 4
Azuma Jishi, Sanya, Hon Shirabe, Tsuru no Sugomori
---
---
Produced in Japan, this special 20th Anniversary reissue of the compositions of famed composer Fukuda Rando features the late Katsuya Yokoyama along with the three most senior members of Kokusai Shakuhachi Kenshukan, Teruo Furuya, Kasushi Matama and Kaoru Kakizakai. Originally released as a VCR in 1991, this new DVD allows us of to see and hear Yokoyama-sensei perform in the prime of his life in ensemble with his most devoted followers. Koto and jushichigen selections performed by Michiko Onari and Taeko Kamijyo.
---
---
---

Sheet Music Menu

Main Menu


Tai Hei Shakuhachi Homepage