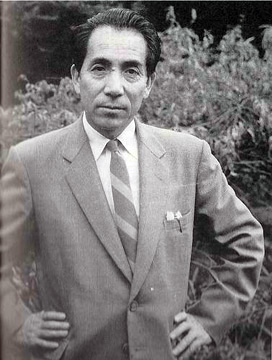 Rando Fukuda (1905-1976) was the son of two painters who devoted their lives to Western art after the turn of the century. His father, Shigeru Aoki (1882-1911), an oil painter noted for his work in the Yoga Movement, a Western-style art movement that flourished in Japan during the late Meiji Period. Yoga combined Japanese legends with religious themes using European conventions, techniques and materials. The descendant of a samurai family from Kurume in northern Kyushu, Aoki was fixed at an early age on pursuing his passion for art. In doing so, he abandoned both his heritage and new family when Rando was only two-years old. Sigeru Aoki died impoverished at the age of 28, having received little, if any, recognition until many years later. Rando's mother, Tane Fukuda (1885-1968), was also a prolific painter who worked in watercolors and oils. She later remarried, raising a large family, but continued her artistic endeavors until passing away at the age of 83.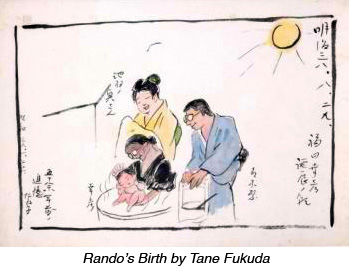 Rando Fukuda was raised by his maternal grandparents in Ibaraki Prefecture in the Kanto region on Japan's main island of Honshu. Due to the lack of educational resources in this rural part of Japan, he was sent to live with his uncle's family in Tokyo. In an autobiographical essay, Fukuda writes that, on the way to Tokyo, he contracted influenza, delaying his educational pursuits an entire year. It was at this time that he first encountered shakuhachi, quite by chance, at the home of an English teacher named Kobayashi who was originally from Ibaraki Prefecture. Rando was thinking about enrolling at a school where Kobayashi-sensei taught, so he paid him a visit to ask for advice. While the teacher was preoccupied in the kitchen preparing something for his guest, Rando noticed a shakuhachi displayed on the tokonoma of the room in which he was waiting. Without a second thought, and quite inappropriately without permission, the impetuous teenager picked up the flute and began to play. Familiar only with crude shakuhachi of his own making, Rando was swept away by the beautiful tone easily produced by this wonderful instrument. When Kobayashi heard the sound of the flute wafting into the kitchen, he rushed back to the waiting student,

whereupon he proceeded to scold him severely for his rude behavior. Kobayashi informed him that the shakuhachi was a sacred spiritual tool that should never be handled casually in such an offhand manner. Unimpressed by this exhortation, Rando further exacerbated the situation by asking the teacher if he was a master player, then requesting that he demonstrate his expertise on the instrument. Appalled by this breach of etiquette and lack of respect, Kobayashi unceremoniously wacked Rando on his head with the flute. Fukuda wrote—apparently with no pun intended— that this experience made a deep and lasting impression on his mind. For it was at this moment that he decided, in no uncertain terms, to devote his life to shakuhachi, and to show his teacher the error of his ways. Indeed, it was only five years hence that Kobayashi received an invitation to attend a concert in which Fukuda performed the difficult sankyoku piece "Zangetsu" accompanied by koto & sangen. After the concert, moved by the beauty of the piece and astounded by skill of his former student, Kobayashi came to Fukuda's dressing room and humbly apologized. Both teacher and student were, thus, reunited in a heartfelt and tearful reconciliation.
Rando Fukuda studied shakuhachi for over eight years with Sekiguchi Getsudo, and later with Mizuno Ryodo. During this time, he felt a strong need to familiarize himself with Western music theory as well, so enrolled in music school in Tokyo where he studied piano with Miyazaki Kingetsu and violin with Takashina Tetsuo. From hereon in, Fukuda's pursuit of academics was overshadowed by an intensive study of music that lasted for the remainder of his life. Of historical interest is the fact that Fukuda's only shakuhachi students were later to be became two icons of the instrument. Ranpo Yokoyama was Fukuda's uchi deishi ("live-in apprentice"), followed by his son, one of the great masters of the post World War II generation, Katsuya Yokoyama. It was via this transmission, as is customary, that Ranpo 蘭畝 received his shakuhachi name, one kanji of which was taken from that of his teacher, Rando 蘭童.
Rando Fukuda was a remarkable multi-talented individual. Founder of the Asuma-ryu sect of shakuhachi, he was a prolific composer and performer of both traditional and contemporary music. Along with playing solo honkyoku and the ensemble form of sankyoku, he composed numerous radio and movie themes. In addition, he was an avid writer, publishing books related to his passions for culinary arts and fishing.
Fukuda's legacy is embodied in the compositions presented here. Many thanks to his grandson Tetsuya Ishibashi and directors of the Kokusai Shakuhachi Kenshu-kan (International Shakuhachi Training Center) for allowing Tai Hei Shakuhachi to publish this very special resource for shakuhachi players and enthusiast outside of Japan and around the world. Amongst the pieces in this collection is "Wadatsumi no Iroko no Miya" that Fukuda dedicated to the memory of his father at a ceremony in honoring Shigeru Aoki's work many years after his death. This composition was inspired by the Aoki's masterpiece "Paradise Under the Sea".