VINTAGE SHAKUHACHI
Repair & Restoration  •  Performance Upgrade
Steps in rebuilding the nakasugi (middle joint) of a jiari shakuhachi
The nakasugi is a mortise-and-tenon joint. The female part or mortise is located on the upper part of the shakuhachi.
The mortise is prone to cracking due pressure on its thin bamboo wall when the flute joined together.
It is essential that this section of the shakuhachi be reinforced tightly with strong binding to avoid damage to the bamboo.
The nakasugi of vintage instruments, subjected to excessive wear over years of use, often requires complete rebuilding.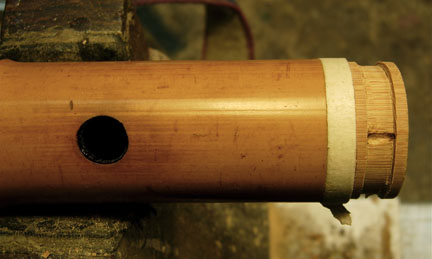 1. The old decorative ring must first be removed. This ring is traditionally made of many different types of material including rattan, silver, cherry bark, tortoise shell, water buffalo horn or fabricated from tonoko (powdered stone) and urushi lacquer. Reinforcing binding of older vintage shakuhachi is usually made of natural, non-synthetic fiber, hence prone to rotting. If that is the case, this string is removed and the nakasugi resized and shaped to accept new binding as well as a new ring.
2. New linen-nylon binding is applied. The woven fiber is able to stretch and applied under great tensile strength. This prevents the bamboo from expanding beyond the point where it will crack.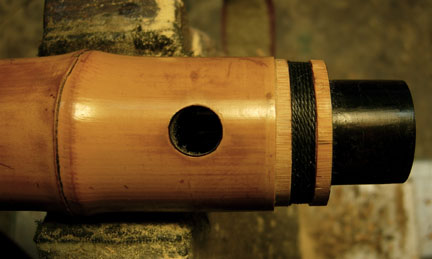 3. While the mortise is far more vulnerable, I always reinforce the tenon as well.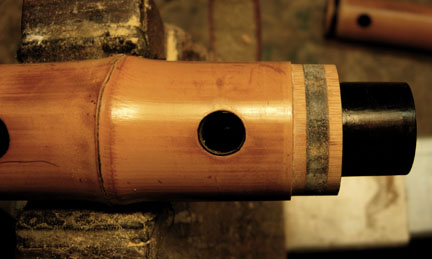 4. Since the decorative ring must sit securely and be glued to the bamboo, a precisely-sized foundation is critical. The notched binding is covered with tonoko (powdered stone) or similar bonding material and filed so that it is flush with the bamboo.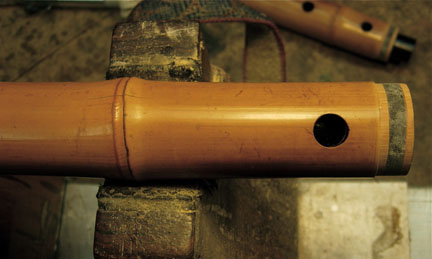 5. Both sections of the shakuhachi must be sized to match each other so the rings are perfectly aligned.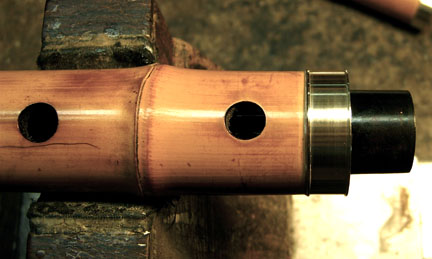 6. Brass silver plated rings are fabricated on a metal lathe to fit the bamboo after which they are silver plated. The new rings are carefully positioned on either end of the nakasugi.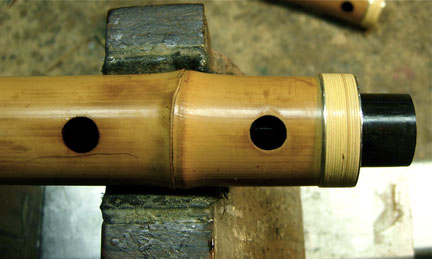 7. Finely-split rattan is added to the rings as a finishing touch, leaving only a narrow border of silver visible to the eye.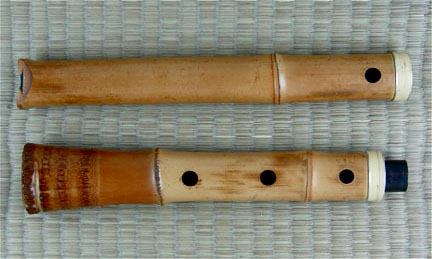 8. The final result.
---
Vintage Shakuhachi Repair & Restoration Photo Gallery