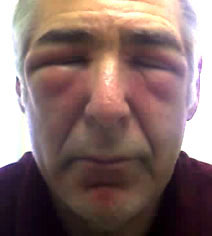 The result of sensitivity to urushi lacquer
Traditional Japanese shakuhachi are made with urushi lacquer which is distilled from a plant akin to poison oak and ivy. The scientific name of urushi is rhus vernicifera. It is a member of the Anacardiaceae (sumac) family and is native to China, Korea, Japan, and the eastern Himalayas region. The sap of this tree contains a resin-urushiol, which when exposed to moisture and air, polymerizes and becomes a very hard, durable, plastic-like substance.
Urushi is, in fact, a natural plastic. It is also extremely toxic causing severe sensitization and allergic reactions. Urushi allergy and sensitization are quite widespread and problematic amongst members of the world shakuhachi community. I've known people (including my own shakuhachi teacher) who were hospitalized after purchasing a new flute. As the number of shakuhachi players around the world continues to grow, we are finding that a number of people react, not only to the lacquer used in new instruments, but flutes that are quite old as well. Apparently, the gassing effect and vaporization of urushi persists over many years and a full cure of the polymer may never be totally complete. The level of sensitization seems to vary considerably with the individual. While many people do not experience any problems at all, there have been cases reported of reactions occurring by simply being near a flute without even placing it up to one's lips. While this is rare, it is apparent that problems with urushi are widespread and can be quite severe. Most reactions manifest themselves in a nasty skin rash that itches, swells and spreads across the affected areas of the face, chin, lips, eyes and hands. Some people report respiratory problems as well.
Tai Hei Shakuhachi are made with lacquers and other materials that are completely hypoallergenic, benign and safe for use. These materials are stable, durable and long-lasting over time. All of the materials used to make Tai Hei Shakuhachi have been extensively reviewed, tested and deemed to be safe by established toxicologists in private practice as well as staff at the University of California-San Francisco Occupational & Environmental Health Clinic.
There are no known health problems associated with the alternative lacquers that I use as a replacement for urushi. Nor do these materials have any negative effect whatsoever on the acoustical and performance qualities of the instruments to which they are applied. A growing number players in Japan and around the world who are sensitive to the traditionally-used lacquer have purchased Tai Hei Shakuhachi precisely for these reasons.