Professional Root-End Shakuhachi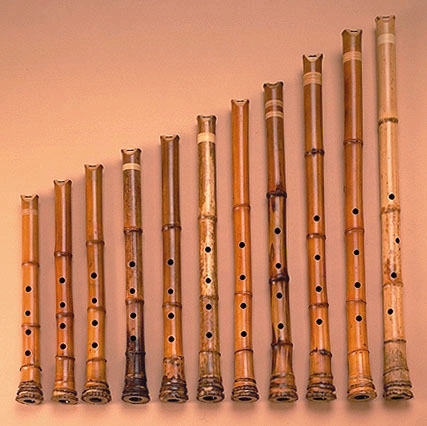 The complete family of Tai Hei Shakuhachi
1.3' (Key of G) to 2.8' (Key of G)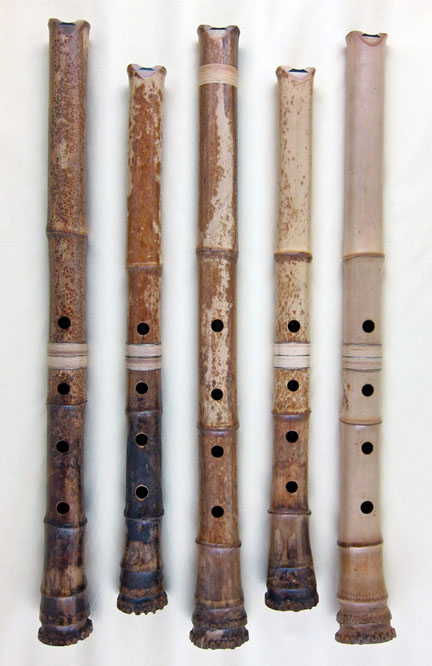 Made from specially-selected Madaké Bamboo
| | | | | | |
| --- | --- | --- | --- | --- | --- |
| Catalog # | Key | Japanese Name | Size | Length-cm. | Length-in. |
| TH-1 | G | I Shaku San Sun | 1.3' | 40.0 cm. | 15 3/4" |
| TH-2 | F# | I Shaku Yon Sun | 1.4' | 43.0 cm. | 16 15/16" |
| TH-3 | F | I Shaku Go Sun | 1.5' | 46.0 cm. | 18 1/8" |
| TH-4 | E | I Shaku Roku Sun | 1.6' | 48.5 cm. | 19 1/8" |
| TH-5 | Eb | I Shaku Nana Sun | 1.7' | 52.0 cm. | 20 1/2" |
| *TH-6 | D | I Shaku Ha Sun | 1.8' | 54.5 cm. | 21 7/16" |
| TH-7 | C# | I Shaku Kyu Sun | 1.9' | 59.0 cm. | 23 1/4" |
| TH-8 | C | Ni Shaku | 2.0' | 62.5 cm. | 24 5/8" |
| **TH-9 | B | Ni Shaku I Sun | 2.1' | 66.0 cm | 26" |
| **TH-10 | Bb | Ni Shaku San Sun, | 2.3' | 70.0 cm. | 27 1/16" |
| **TH-11 | A | Ni Shaku Yon Sun | 2.4' | 75.0 cm. | 29 9/16" |
| **TH-12 | G | Ni Shaku Ha Sun | 2.8' | 84.0 cm. | 33 1/16" |
*The 1.8' I Shaku Ha Sun (Key of D) is the Classical Shakuhachi and the size first used by students of the traditional music. All of the playing guides listed in this catalog are keyed to the 1.8' shakuhachi.
**Please specify which hand plays top and bottom notes as holes are offset for ease of fingering.
OPTIONAL BINDING is available for all Professional Root-End Shakuhachi.
Go to Price List for

PROFESSIONAL ROOT-END SHAKUHACHI

ADVANCED STUDENT SHAKUHACHI
STUDENT SHAKUHACHI
MEDITATION SHAKUHACHI
CHOKAN - BASS SHAKUHACHI
7-HOLE SHAKUHACHI
LARGE-HOLE SHAKUHACHI

JINASHIKAN SHAKUHACHI

SHAKUHACHI HEADJOINT for the SILVER FLUTE
OPTIONAL BINDING
---

For more information on differences between the models of shakuhachi flutes listed above, go to
FREQUENTLY ASKED QUESTIONS section of this web site.
If you have questions that remain unanswered after looking over these FAQs, feel free to drop me a line.
---

Tai Hei Shakuhachi Homepage


Main Menu