Kyo-Shin-An ShakuhachiDojo
James NyorakuSchlefer, Shi-han
New York City
(718) 499-7793
[email protected]
www.nyoraku.com
---
Kyo-Shin-An"Place of the Pure Heart offers traditional shakuhachi instructionin the Kinko line. Private weekly lessons form the basis of shakuhachilearning and is enhanced throughout the year with student recitals,master classes by visiting artists, and many performance opportunities. Studentslearn toplay folk music, zen meditation music, and traditional Japanesechamber music, including recitals with koto and shamisen, traditionalstring instruments. Instruments available. Call for more informationand to arrange a free introductory lesson.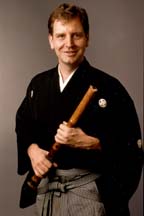 James Nyoraku Schlefer is a leading performer and teacher of shakuhachi in New York City. He received the Dai-Shi-Han or Grand Master's Certificate in 2001 and is the head of the Kyo-Shin-An dojo. His studies in Japan brought him to Aoki Reibo, Yokoyama Katsuya, Yoshio Kurahashi, Yoshinobu Taniguchi, and Mitsuhashi Kifu and his primary teacher in New York was Ronnie Nyogetsu Seldin. He holds a Master's degree in flute & musicology from Queens College and currently teaches music history courses at the City University of New York.
Schlefer has three solo recordings, Wind Heart (which traveled 120,000,000 miles aboard the Space Station MIR) Solstice Spirit (1998), and Flare Up (2002). and his music has been featured on NPR's All Things Considered.
James has composed works for solo shakuhachi. shakuhachi ensemble, duos with koto and shamisen, and a work for shakuhachi and string quartet. He received a composer commissioning grant from the Mary Flagler Cary Charitable Trust. A dedicated and respected teacher, Nyoraku Sensei is head of the Kyo-Shin-An teaching studio in New York City . He has edited books of traditional notation and written an etude book for shakuhachi technical development. He tours with the Japanese music group Ensemble East, which performs traditional and modern music for Japanese instruments, including the shamisen and the koto.

---

ShakuhachiResources Menu

Tai Hei ShakuhachiHomepage


Main Menu