Ronnie Nyogetsu Seldin, Director
185 W.Houston Street, #2K
New York, NY 10014
Tel. & FAX: (212) 929-1037
Nyogetsu@nyc.rr.com
http://www.nyogetsu.com/

---
Ki-Sui-An Shakuhachi Dojo is directed by its founder, Ronnie Nyogetsu Seldin and offers instruction in honkyoku and sankyoku at several locations on the East Coast. Ronnie Nyogetsu Seldin studied shakuhachi in Kyoto, Japan with Kurahashi Yodo Sensei who was a disciple of Jin Nyodo. There, in 1975, he received the name Nyogetsu and a teaching certificate at the level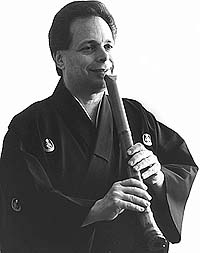 of Jun Shi-han in the Kinko school of shakuhachi. After his return to New York, Nyogetsu was awarded the rank of Shi-han (Master) in 1978, as a result of his efforts to spread the teaching of this instrument in America. In 1980, he received his Dai Shi-han or Grand Master's license.
He has performed in numerous concerts, lectures and demonstrations in the metropolitan area as well as in many other places on the East coast and in the Midwest. Not only has he toured Japan many times, he has also been interviewed on radio and television both here and in Japan and has performed on the sound tracks of several documentary films including the academy award nominated documentary -- A Family Gathering -- (1989) for which he co-composed the sound track. He also played on the GRAMMY nominated "The Planet Sleeps. Ronnie Nyogetsu has released several recordings of shakuhachi music including six cassettes, one LP and eleven compact discs.
In April, 2001, Ronnie Nyogetsu Seldin received a Koku-An Dai Shihan (at the level of Kyu-Dan- 9th level) from the Shakuhachi Living National Treasure Aoki Reibo. He was also given the name Reishin (Heart/Mind of the Bell) to go along with it. This was Nyogetsu's second Dai-Shihan (Grand master's License), the first one having been awarded to him in the Chikuiusha Line, by his teacher Kurahashi Yodo (in Kinko-Ryu and Fuke Meian). Nyogetsu is the first non-Japanese to receive this high award.
The Ki-Sui-An Shakuhachi Dojo has branches in Queens, Manhattan, Upstate New York, Philadelphia, Syracuse, Boston and Baltimore. In addition to teaching privately, Mr. Seldin is also part of the Japanese Music Program at the Graduate Center of the City University of New York where he gives lectures on and demonstrations of the shakuhachi.
Also available are shakuhachi lessons by mail via cassette recording as well as a large collection of traditionally-made shakuhachi for sale. If you are interested in a free initial lesson and teaching manual or a list of available instruments, contact Ki-Sui-An Shakuhachi Dojo directly. After the exercise is learned and recorded by the student, the cassette is returned for a critique and second lesson. One lesson is $60. A series of four is $180. Price includes all materials (cassette, manual and notation) and shipping.
---

Shakuhachi Resources Menu

Tai Hei Shakuhachi Homepage


Main Menu