| | |
| --- | --- |
| | YOSHIO KURAHASHI was born in Kyoto, Japan where he studied shakuhachi since childhood under his father, Yodo Kurahashi, founder of the Mujuan Shakuhachi School. Later on he studied under Homei Matsumura of Nara. He succeeded his father as head of the Mujuan ryu and is considered to be one of the foremost teachers of shakuhachi in Japan today. Kurahashi-sensei travels frequently to America where he conducts classes and workshops for foreign students. |
S-K5a. KYOTO SPIRIT CD $17.50
Shakuhachi honkyoku.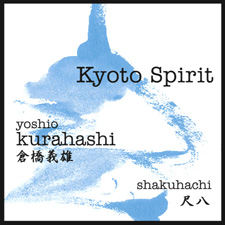 S-K5b. AKI NO YUGURE (AUTUMN DUSK) CD $17.50
This recording contains simple yet profound traditional solo music as well as two beautiful Chinese folk tunes. The CD also features the wonderful Chinese pipa (lute) player Wu Man, who accompanies Kurahashi on three of the selections.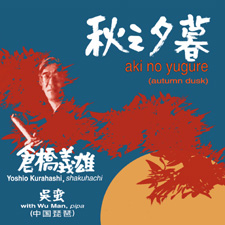 ---
Monty H. Levenson, P.O. Box 294, Willits, CA 95490 USA
[email protected] www.shakuhachi.com