James Nyoraku Schlefer

SHAKUHACHI WORKBOOK:
Daily Practice Exercises
for
Technical Development
The Shakuhachi Workbook is an exercise book developed to provide daily warm-up and practice exercises specifically for the shakuhachi. Similar to those available for the Western flute but adapted for shakuhachi and written in Kinko notation, the book is intended for technical development of shakuhachi playing. There are exercises for warming up, breath control, embouchure development, intonation, finger dexterity, atari, meri, koro koro, and for phrasing. An accompanying cd provides examples of how the exercises should be approached with verbal introductions (in English). The book is excellent for all shakuhachi players by providing a way to warm up before practicing the traditional repertoire, as well as for shakuhachi teachers to work on particular techniques with their students.
Exercises include Introduction & Long Tones, Intervals, Stretch Skips, Harmonics, Scales, Insempo Scales, Meri Exercise, Swell Exercise, Atari Exercise and Koro Koro Exercise.
93 pages. PG-17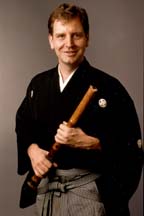 James Nyoraku Schlefer is a leading performer and teacher of shakuhachi in New York City. He received the Dai-Shi-Han or Grand Master's Certificate in 2001, and in 2007, he received a second shi-han license, this one from Yoshio Kurahashi and the Mujuan Dojo in Kyoto. In Japan he has worked with Aoki Reibo, Yokoyama Katsuya, Yoshinobu Taniguchi, and Mitsuhashi Kifu. His primary teacher in New York was Ronnie Nyogetsu Seldin. Schlefer holds a Master's degree in Western flute & musicology from Queens College (CUNY) and currently teaches music history courses at the City University of New York. He has four solo recordings, Wind Heart (which traveled 120,000,000 miles aboard the Space Station MIR) Solstice Spirit (1998,) Flare Up (2002,) and In The Moment (2008.) His music has been featured on NPR's All Things Considered.
Nyoraku is a member of the Japanese music group Ensemble East, which performs traditional and modern chamber music for Japanese instruments, including the shamisen and the koto. He is currently the curator of Japanese music programming for Arts at Tenri, a monthly chamber music series in New York City.
Schlefer began his musical career as a Western flutist. For the past several years he has turned his attention to creating new music and to date has written numerous pieces for shakuhachi in combination with both Japanese and Western instruments. A dedicated and respected teacher, Nyoraku Sensei is head of the Kyo-Shin-An teaching studio in New York City. He has edited books of traditional notation and written and published two etude books for shakuhachi technical development.
What People Say About THE SHAKUHACHI WORKBOOK
The Shakuhachi Workbook: Daily Practice Exercises for Technical Development by James Nyoraku Schlefer, Kyo-Shin-An Shakuhachi Dojo is a fine étude book in several ways. It is accompanied by a CD, which seems now to be the norm for study guides. The CD is helpful, but not always an indispensable part of the package. He has also published an appendix to the Workbook in the Annals of the International Shakuhachi Society-Vol. 2 (pp. 377-381), entitled Practical Exercises for Technical Development, covering some advanced techniques (without the benefit of a CD).
Nyoraku-sensei offers a progressive program of studies for the intermediate to the advanced level shakuhachi student (though beginning students might derive benefit from approaching some of the less difficult studies). He has the studies organized so that several different aspects of playing can be approached each day, from long tones through intervals, scales and more advanced techniques. More difficult techniques are covered in his article in the Annals . . . article, which are is quite valuable.
The Shakuhachi Workbook is designed with the Western shakuhachi student in mind. From my reading, and brief attendance as a fly on the wall at some shakuhachi lessons in Japan, the method there seems to have all the students meet once per week together and one at a time work with repertoire, not studies, pertinent to their level, copying the teacher's (who says very little, if anything) demonstration. It seems that the idea of private lessons is now "catching on" there, still having the students work on repertoire, not studies.
Western music students are used to being trained by studying étude and scales as a significant part of their work with a private teacher. There is much to be said for this method. Difficult patterns of fingering, tone production, and scales all combine to making the approach to repertoire much easier, and the technical aspects of performance almost a subconscious process. The most advanced professional musicians, as well as students in the West, continue to employ studies and scales as part of their practice routine, solo repertoire being almost secondary. This book gives shakuhachi players, through the intermediate level, a set of good études that will, if approached properly (with a metronome, and tuner) accelerate their progress.
The book enables a beginning approach to reading katakana, to smooth out intervals and scales, and, though not stated, the possibility of work on tone color. (There is another book, Extract of the Master Techniques for Shakuhachi, by Masayuki Koga, which does address tone color, tongue position, embouchure, and tonal flexibility which that I recommend.) I find the lack of addressing what is involved in making a tone and tonal variety is the one weakness of this book. In practicing the various studies, there is a perfect opportunity to approach these issues.
This book James Nyoraku Schlefer's Shakuhachi Workbook is an excellent choice as a study book for dealing with covering the basic technical issues in playing the shakuhachi. It is definitely cast in the Western mode of instrumental study. As interest in shakuhachi continues to grow in the West, outside of Japan, this book, and others like it, created at a more advanced level, will fill a void which needs filling. serve to fill a void in the instructional resources available to those taking up the shakuhachi.
Harry Sargous
Reviewer, Harry Sargous, is a shakuhachi student of Michael Chikuzen Gould. He was principal oboist of the Toronto Symphony for eleven years, Professor of Music (Oboe and Music Technology) at the University of Michigan, Ann Arbor, School of Music for twenty years, and an internationally renowned soloist
---
Learn more about James Nyoraku Schlefer
---
---

James Nyoraku Schlefer's Web Site

Playing Guides Menu

Tai Hei Shakuhachi Homepage


Main Menu