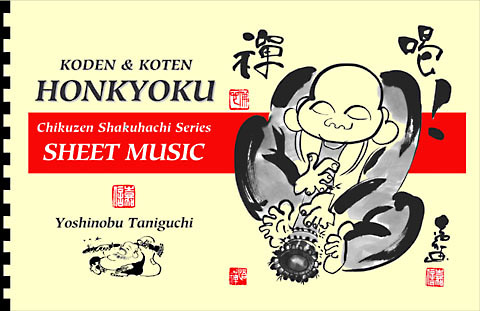 Yoshinobu Taniguchi
KODEN & KOTEN HONKYOKU
Chikuzen Shakuhachi Series Sheet Music & CDs
(In Kinko Ryu Notation)
• 32 Handwritten Scores • 4-CD Set including 34 Pieces • Original Sumi-e Ink Paintings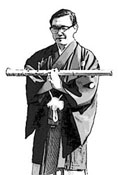 Yoshinobu Taniguchi is one of the foremost living masters of shakuhachi in Japan today. In addition to having studied under three great pillars of shakuhachi - Aoki Reibo, Yamaguchi Goro and Yokoyama Katsuya - he has also mastered the playing styles and repertoire of many other shakuhachi sects. Mr. Taniguchi is a recipient of the transmission of Koden Honkyoku through Watazumido Shuso and Yokoyama Katsuya.
He has received several honors for his work in Japan including acknowledgement as top performer at the Osaka Geijutsu Sai. He was also given the honorary title of Sen Shin Kutsu Dai Shihan at the young age of 32, a title usually reserved for senior "ambassadors" of shakuhachi.
Mr. Taniguchi was Visiting Professor of Shakuhachi at Oberlin College Conservatory of Music in Oberlin, Ohio where he taught in 1982. He presently resides in Mineyama-cho, a small city near the Sea of Japan outside of Kyoto. Despite widespread recognition as a master of the shakuhachi, Mr. Taniguchi shuns the spotlight, preferring to focus on his personal training and preparations for a few select performances each year.
About the Chikuzen Shakuhachi Series Sheet Music
The origins of shakuhachi are rooted in an oral tradition. For generations, honkyoku were passed on from teacher to student without the aid of written notation. Indeed, there is much subtlety and nuance in this musical form impossible to note on a piece of paper. Today, however, and since the advent of a formal notation system by Kurosawa Kinko in the 18th century, most teachers rely on the use of written scores as a fundamental aid in transmitting this ancient musical heritage. The sheet music scores presented in this book - handwritten by Yoshinobu Taniguchi - have been chosen with this in mind. Taniguchi-sensei not only knows the music inside and out, having studied with great masters of the shakuhachi in Japan, but is a talented sumi-e artist and calligrapher as well. His concise style of notation goes far to facilitate interpretation of the traditional music and assist in the learning process.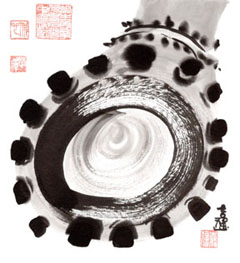 While some of these scores were written years ago, most have been updated recently in an effort to improve on previous versions. The majority of the pieces presented here are dokyoku or honkyoku transmitted through the legendary shakuhachi player Watazumido to Yokoyama Katsuya and then to Taniguchi-sensei. Watazumido was a strong personality who brought his genius to shakuhachi at a time when it was greatly needed. He revived the shakuhachi world by re-introducing high-level techniques and by putting an emphasis on playing "naturally" or freely from one's heart and soul.
Included in this edition are pieces that appear on the four CD set Chikuzen Shakuhachi Series: Ajikan (Vol. 1), Bosatsu (Vol. 2), Sokkan (Vol. 3) and Tamuke (Vol. 4), performed by Taniguchi-sensei. While this collection of musical scores is entitled Koden & Koten Honkyoku, this is not strictly the case. The accompanying CD's contain two modern compositions as well as a sankyoku piece performed in ensemble with koto. These contemporary compositions—Ichi Jo by Kineya Seihoi and Kaze no Uta by Tadao Sawai—are played by Taniguchi-sensi in the style and spirit of shakuhachi honkyoku and, thus, have been included in this edition.
Along with the shakuhachi honkyoku sheet music, this volume also features "The Core Spirit of Shakuhachi " by Yoshinobu Taniguchi, "An Introduction to Taniguchi-sensei" and Glossary by Michael Chikuzen Gould, and three sokyoku pieces prefaced by an introduction to this music.
TS-1. 32 honkyoku scores. 82 pages. 11" x 17" format. Printed on high-quality vellum paper. 4-CD Set includes 34 recorded pieces. Published by Tai Hei Shakuhachi.
Chikuzen Shakuhachi Series CDs
This 4 CD set by Yoshinobu Taniguchi include all of the pieces in the accompanying book of sheet music.
Listed below are the compositions in each volume and the length of shakuhachi used.
Ajikan - Volume 1
1. Honshirabe - 3.0'
2. Shika no Tone -1.8'
3. Hi Fu Mi Hachigaeshi - 1.8'
4. Ajikan - 3.0'
5. Reihou [Version 1] - 3.0'
6. Esashi Oiwake - 2.0'
7. Kumoijishi -1.4'
8. Tamuke [Version 1] - 2.4'
9. Ichi Jo -1.8'
10. Sagariha -3.0'
11. Kaze no Uta -2.0'

Bosatsu - Volume 2
1. Akita Sugagaki -1.8'
2. Koden Sugomori (Suzuru) - 1.6'
3. Sanya -3.0'
4. San An -2.4'
5. Shishi- 3.0'
6. Furin - 3.0'
7. Bosatsu - 2.7'

Sokkan - Volume 3
1. Shingetsu - 3.0'
2. Sokkan - 3.0'
3. Taki Ochi - 3.0'
4. Echigo Reibo - 3.0'
5. Daha - 3.0'
6. Ekoh - 3.0'
7. Uki Gumo [Version 1] - 3.0'
8. Fudaiji Koku - 3.0'
9. Ryobo [Version 1] - 3.0'

Tamuke - Volume 4
1. Nezasa Koku - 3.0'
2. Reihou [Version 2] - 3.0'
3. Ryobo [Version 2] - 3.0'
4. Kyorei - 3.0'
5. Tamuke [Version 2] - 3.0'
6. Uki Gumo [Version 2] - 3.0'
7. Mukaiji - 3.0'
---
Free Downloads
See the musical notation for Kumoijishi (Lion's Dance)
Download a complete version of Kumoijishi (316K)
Download a complete version of Sagariha played on the 3.0' Shakuhachi (720K)
---
Samples of Sumi-e ink paintings by Yoshinobu Taniguchi in this edition
Buy Sumi-e ink paintings by Yoshinobu Taniguchi
www.ShakuhachiArt.com
---
What people are saying about the Taniguchi CDs and Sheet Music
---
Ordering Information / Price of Scores & CDs
---
---

Sheet Music Menu

Main Menu


Tai Hei Shakuhachi Homepage