This volume includes twelve classical sankyoku pieces for the shakuhachi, composed during the 18th and 19th Centuries, which are used by Koga for his beginning, intermediate and advanced students. Sankyoku refers to "new" music for the shakuhachi often played in ensemble with stringed instruments such as koto and shamisen (3-stringed lute). This music can be played solo as well.
The titles included in this edition are:
*Kurokami (Black Hair)

*Tsuru no Koe (Call of the Crane)

*Sode Koro (Incense in the Sleeve)

*Kosu no To (Door of the Bamboo Screen)

*Shin Takasago (New Takasago)

Yugao (Evening Glory)

Sue no Chigiri (Pledge of Love)

Chidori no Kyoku (Song of the Plover)

Keishi no Hana (Poppy Flower)

Kajimakura (Ship Rudder as Pillow)

Shin Musume Dojyoji (Woman on the Dojyoji Temple)

Zangetsu (Moon at Dawn)
Each piece is written in both Japanese cursive and Western 5-line staff notation, including lyrics (transcribed in katakana as well as Romanji) and Koga's annotations.
*Comes with a CD featuring the pieces Kurokami, Tsuru no Koe, Sode Kohro, Kosu no To and Shin Takasago demonstrated by Masayuki Koga.
KS-1 90 pages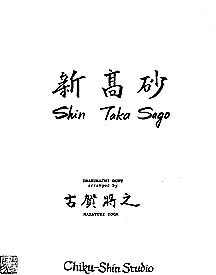 Masayuki Koga
Sheet Music for Shakuhachi
The first two of Masayuki Koga'soriginal compositions and arrangements of classical and contemporary shakuhachi music. Published by the Chiku-Shin Studio.
K-1 Shin Taka Sago (Japanese Cursive Notation)
K-2 Gael's Song (Japanese Cursive & Western Notation)
---
---
---