BAMBOO IN JAPAN

---


Nancy Moore Bess
with
Bibi Wein
For centuries, bamboo has fascinated legions of craftspeople, plant lovers and devotees of the handcrafted object. And nowhere is bamboo used more elegantly and distinctly than in Japan. Its presence touches every part of daily life--art, crafts, design, literature, and food. Its beauty enlivens textile designs, restaurant interiors, and holiday festivities.
Artist and writer Nancy Moore Bess set out to discover just how bamboo-crafted objects attained such heights in Japan. Her travels took her throughout the country and through centuries of accumulated artifacts. After five years of dedicated research and study, she has assembled an unparalleled collection of writings and photographs that uncover the hidden beauty of bamboo.
Bess unveils the boundless uses of this versatile material in Japan, ranging from the most elegant and refined to the most humble. She shows bamboo's applications in the garden and home, in the cherished accessories of the tea ceremony and flower arranging, and in an endless array of crafts from elaborate baskets to colorful kites and dolls.
With illuminating text and over 250 exquisite photographs, illustrations, and artwork, Bess reveals the intricacies and resources of this lovely versatile plant. She explores the Japanese reverence for bamboo's natural beauty, adding immeasurably to our knowledge of the Asian sensibility and lifestyle.
The chapter on bamboo music features the work of Monty H. Levenson (Tai Hei Shakuhachi) and John Kaizan Neptune's TakéDaké Band.
Hardcover: 224 pages, 228 X 277, 160 color and duo-tone pages. Publisher: Kodansha International BK-7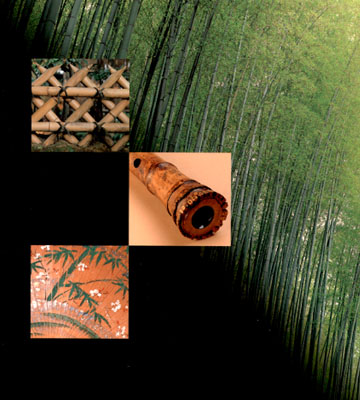 ---
Contents
Preface: A View from the Outside
1. Bamboo in Japanese Culture
Language, Literature, and Bamboo
Bamboo in Ritual
Bamboo as a Design Motif
2. Bamboo Itself: A Living Resource
Horticulture
The Cultivation of Bamboo
Bamboo Vocabulary
Bamboo as Craft Material
Processing and Preparation
Decorative Techniques
3. Crafts in Japan
Shokunin: Craftspeople in Japan
The Evolution of Crafts in Japan
The Impact of Mingei
A Partnership: Government and the Arts
Crafts Represented in Art and Design
4. Basketry
Baskets, Baskets, Baskets
Baskets for Ikebana
Bamboo Masters: Living National Treasures
New and Innovative
5. Bamboo and the Traditional Arts
Seeking Beauty: Wabi, Sabi, Suki, Shibumi
Tea Ceremony in Japan
Brush to Ink: Calligraphy and Painting
6. Gardens and Architecture
Gardens
Architecture
7. Bamboo in the Home
One Space, Many Functions
Lanterns and Light Fixtures
In the Kitchen
8. Personal Accessories
Japanese Umbrellas
Fans
9. Bamboo and Play
A Sense of Play
Kites
Dolls
Fishing
Toys
10. Celebration, Performance, and Ritual
Where the Diving and the Worldly Meet
Music
Traditional Sports
Afterword: The Future of Bamboo in Japan
Sources for Observation and Research
Japan / United States / International
Japanese Historical Periods
Notes
Glossary
Bibliography
Index
Photo Credits
Acknowledgments
---
Reviews
Read a review of Bamboo in Japan in The Japan Times
"... stunning graphics, photographs and comprehensive coverage of all aspects of the big grass. Recommended." --Bill Surface, Kansai Time Out
"Text and photos are combined in one of the best-designed books of the year." --Donald Richie, The Japan Times
"It's beautifully produced, astoundingly comprehensive, and obviously a labor of love." --Pat Malarcher, Editor of Surface Design Journal
---
About The Author
Nancy Moore Bess is an internationally known textile and bamboo craftsperson. For the past 30 years, she has been creating unique baskets that reflect her research into the cross-cultural, especially Japanese, influences on her craft. Her continuing interest in multicultural art forms led her to explore the structural and aesthetic properties of bamboo. She lectures on basketry and bamboo around the world and is an active member of the American Bamboo Society. Her studio is in Amherst, Massachusetts, where she both weaves and writes.
---
---

Flute Craft Manuals & Books Menu

Tai Hei Shakuhachi Homepage


Main Menu