TADASHI TAJIMA was born in Sakai, Osaka in 1942. He began to study shakuhachi upon entering the Kinko School, where he trained with Chikuho Sakai in mastering the classical shakuhachi honkyoku (the term honkyoku refers to the solo shakuhachi music that was developed in the 17th and 18th centuries by Zen monks as a form of spiritual practice and meditation).

Later in Tajima's development, Sakai was moved by Tajima's passion for playing and introduced him to a new master, Katsuya Yokoyama. At the age of 29, Tajima began studying with Yokoyama who, although originally from the Kinko School, had studied a number of years with an idiosyncratic musician by the name of Watazumido-Shuso who emphasized using very long flutes and added a lot of breathiness to the resulting sound. Yokoyama made this style popular among shakuhachi players and devotees, and Tajima is considered to be one of his best and most well-known students.

Mr. Tajima has performed and traveled around the world, including North America, China, Europe and Australia. He was awarded the grand prize for traditional Japanese music at the Pan Musik Festival, and the achievement award for Osaka's Theatrical and Musical Arts Organization. In addition to traditional concert settings, Mr. Tajima has also experimented with playing the shakuhachi in various spatial and sonic locations including an oratory at a Shinto shrine, on the surface of a lake, and inside a cave.
S-I1b. TRADITIONAL JAPANESE CHAMBER MUSIC [I] CD $19.50
Nihon no Oto Ensemble, featuring Tadashi Tajima and Toshimitsu Ishikawa on shakuhachi, a play honkyoku duet and sankyoku pieces with biwa, shamisen, koto & voice.
S-T1c. TADASHI TAJIMA: Master of the Shakuhachi [I] CD $19.50
Kinko Honkyoku.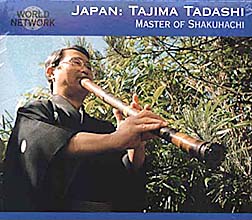 S-T1a. SHINGETSU
Kinko honkyoku repertoire.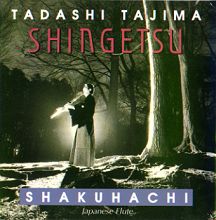 Out of Print. No longer available.
---
Monty H. Levenson, P.O. Box 294, Willits, CA 95490 USA
[email protected] www.shakuhachi.com