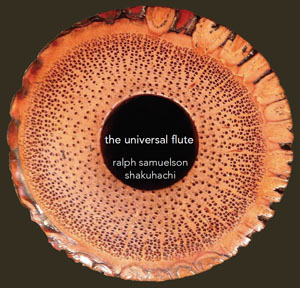 S-S1d. THE UNIVERSAL FLUTE: Discovery in a Single Tone
(Mostly) American Music for Shakuhachi
The shakuhachi life can be a lonely life, a challenging life, not for the faint of heart. The instrument is so attuned to your body and mind, and to the natural atmosphere, that it responds differently every time you blow — each day, the bamboo and I start anew. The sound can be unpredictable, and for even the most accomplished players, moments of graceful ease are rare and precious. But the shakuhachi can tell us much about ourselves, our universe, and the eternal question of born-live-die. The shakuhachi is tricky, personal, free, and open, and offers a very special expression in any kind of musical setting. Players of old followed the path of ichion-jobutsu, enlightenment in a single tone, and the great 20th century American composer Henry Cowell understood the shakuhachi as "The Universal Flute." His appreciation of the instrument is the inspiration for this album.
1. Henry Cowell, The Universal Flute
2. Teizo Matsumura, Shikyoku Ichiban (Poème 1)
with Yoko Hiraoka, koto
3. Richard Teitelbaum, Hi Kaeshi Hachi Mi Fu
4. Bun-Ching Lam, Three Songs of Shide
with Tomoko Sugawara, kugo harp
5. Elizabeth Brown, Afterimage
with Yoko Hiraoka, shamisen and voice
6. Henry Cowell, Reprise: The Universal Flute
with Steve Gorn, bansuri
Performers Joining Ralph Samuelson

Steve Gorn (track 6) is a virtuoso performer of the bansuri, the bamboo flute of North India. A Grammy winner and acclaimed performer of Hindustani classical music, he is also a leading artist in the arena of contemporary world music performing bamboo flute, soprano saxophone, and clarinet in concerts and festivals throughout the world.

Yoko Hiraoka (tracks 2, 5) is a master performer of the koto (13-string zither), shamisen (3-string lute), biwa (4 or 5-string fretted lute), and voice. An authoritative exponent and teacher of the traditional music of Japan, she is also an active interpreter of the contemporary repertoire for her instruments.

Tomoko Sugawara (track 4) is a rare performer of the vertical angular harp known in Japan as kugo. The kugo originated in Mesopotamia as early as 1900 BC and eventually moved along the Silk Road as far east as Japan where, however, it disappeared by 1000 AD. She is leading efforts to revive the instrument in Asian and international contexts and is also an active performer of concert harp, Baroque triple harp, and others.
CD
$15.00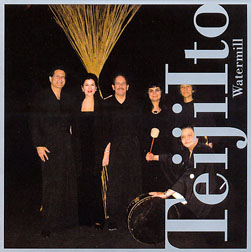 S-S1c. TEIJI ITO: Watermill
Teiji Ito's undisputed masterpiece Watermill was created in 1971 for the controversial ballet by Jerome Robbins and named for the town on Long Island where Robbins had a peaceful country home. Teiji draws upon Chinese, Tibetan, African, Native American and Japanese ceremonies in creating what many consider his most profound compositional achievement. Based on the ideas of cycles—years, moons, ages and seasons, Watermill is brilliantly brought to life by Teiji colleague Steve Gorn and a brilliant ensemble that includes Teiji's daughter Tavia Ito. This is music of deep spirituality composed by a pioneer of the New York Underground who is finally getting the recognition he has long deserved.
Steve Gorn: Musical Director, Bansuri Flutes, Hichiriki, Ocarina, Claves
Tavia Ito: Bugaku Drum, Puili (Hawaiian Bamboo Shakers), Javeneses Gongs, Mushi Chachiki (small Japanese Gong), Shakuhachi,
Maraca Mara Purl: Koto, Mushi, Voice, Indian Cymbals
Ralph Samuelson: Shakuhachi, Ryuteki
Yukio Tsuji: Gong, Voice, Zither, Taiko Drum, Kalimba, Steel Drum, Ratchet, Shakuhachi Zishan Ugurlu: Sho, Mushi, Cymbal
1. Prelude/Introduction
2. Spring
3. Running
4. Summer
5. Nightmare
6. Autumn
7. Winter/Epilogue
CD
$16.50