January 3, 1999
Dear Friends,
It was requested that I convey the following information to all members of the international shakuhachi community.
It is my sad duty to report that Living National Treasure Yamaguchi Goro died on the morning of January 3rd 1999 at 1:40 am.
The Wake (otsuya) will be held at 6 pm on the 7th of January
The Funeral (kokubetsushiki) will be held from 11am to 12 noon on the 8th of January at the Zenkoji Temple in Minato-ku, Kita Aoyama 3-5-17 TOKYO.
Be well.
Monty
---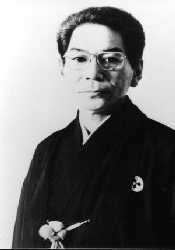 Yamaguchi Goro
Yamaguchi Goro was head of Chikumeisha Shakuhachi Guild, professor at Tokyo National University of Fine Art & Music, and the youngest ever designated Living National Treasure. His soft, mellow tones speak with subdued power and inherent spirituality, and his interpretation of the classical Kinko style honkyoku and gaikyoku (ensemble) music has been highly acclaimed by all shakuhachi players.
In 1967, he began a guest lectureship at Wesleyan University (Middletown, CT). Since then he has made innumerable definitive recordings and performances leading to his appointment as lecturer in 1977 and professor in 1987 at the prestigious Tokyo University of Fine Arts & Music, and to his ascension to the status of Living National Treasure, Japan's highest award of artistic achievement. His performance of the classical masterpiece travels through space upon Voyager II, part of a message from Earth to other galaxies.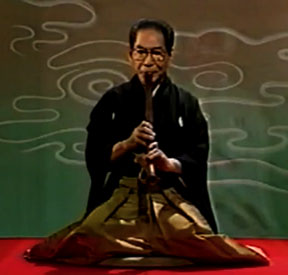 Hear Yamaguchi Goro play Sokaku Reibo
---

Christopher Yohmei Blasdel's Tribute to Yamaguchi Goro


Tim Hoffman's Tribute to Yamaguchi Goro

Japan Times Obituary

New York Times Obituary

Photos of Yamaguchi Goro at the World Shakuhachi Festival - July, 1998


Yamaguchi Goro Bulletin Board on the WWW
---

Tai Hei Shakuhachi Homepage


Main Menu