-- CD Order Form --

John Singer ranks among the finest Shakuhachi players in the world. The sound of his flute touches the heart. - G.S. Sachdev
NEW DOUBLE CD: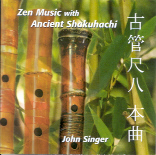 Zen Music with Ancient Shakuhachi
(Kokan Shakuhachi Honkyoku)
The first recording of its kind, John Singer performs 16 Zen Buddhist pieces using 11 ancient and rare Edo and Meiji period instruments. $25.00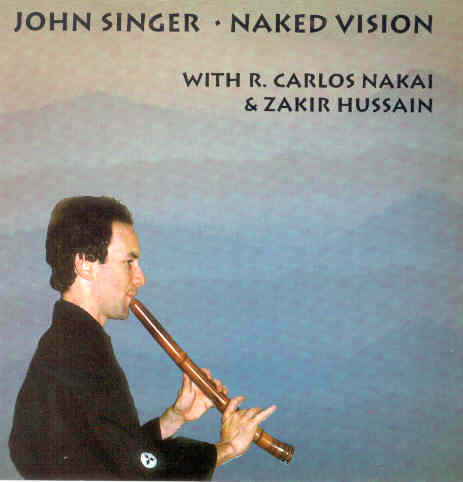 Naked Vision
Going beyond traditional musical and cultural boundaries, John Singer's Naked Vision is a collaboration of his Shakuhachi music with that of other master musicians including Zakir Hussain (tablas), R. Carlos Nakai (Native American flute), Aenea Keyes (violin), Todd Barton (composer, synthesizers), and others in a striking new world music recording. $16.00
Listen to the track Cedar and Bamboo from this CD.

Shakuhachi Zen
John Singer gives a solo performance of the rare and ancient Nezasa Ha Kinpu Ryu Honkyoku Zen Buddhist pieces. These were taught to him by the "Iemoto" (Grand Master) of the Kinpu Ryu, Inoue Shouei (Inoue Shigeshi) in 1987. This music originated in northern Japan and consists of 10 pieces in total. This is their first introduction to the West. $16.00
Listen to the track Matsu Kaze from this CD.
John Singer is someone to keep an eye on. His recordings show great creativity and talent... - Paul Horn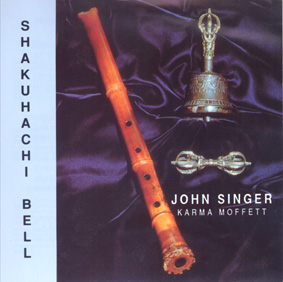 Shakuhachi Bell
A performance of four Kinko Ryu Zen Buddhist pieces by John Singer combined with the Tibetan bells of Karma Moffett. The first piece "Hifumi Hachigaeshi No Shirabe" is a combination of two pieces, "Hifumi No Shirabe" (Introduction) and "Hachigaeshi" (Returning of the Bowl). The next two pieces "Koku Reibo" (A Bell Ringing in The Empty Sky) and "Mukaiji Reibo" (Misty Ocean Bell) are two of the most difficult and highly regarded of the Kinko Ryu Honkyoku pieces. And the fourth piece "Yugure No Kyoku" (Twilight Bell) is considered to be one of the most beautiful. $16.00
Endless Sea: Impressions of Japan
An exciting fusion of Japanese and Western musical traditions, this non-edited acoustic performance blends the haunting qualities of John Singer's shakuhachi with the superb musicianship of Paul H

urst on the Concert Harp. $16.00
Listen to the track Sakura from this CD.
OUT OF STOCK
A performer and recording artist of the highest degree, John expresses his spirit completely through his music. - Kenny Jones, The Who

Zen Shakuhachi Duets
Master shakuhachi musicians John Singer and Mizuno Kohmei perform seven of the rare Kinko Ryu honkyoku duets. Most of these were created by their teacher, the Grand Master and Living National Treasure, Yamaguchi Goro. This is the only recording of its kind. The Compact Disc includes a special duet version of "Sokaku Reibo" (Nesting Cranes). $16.00
Listen to the track Shika no Tone from this CD.

Global Motion
A world jazz recording with Paul Horn and members of Skywalk, with rhythms ranging from Brazilian, to African, to Japanese. Global Motion matches master flutist John Singer's shakuhachi with sax, flute, keyboards, guitar, bass, vocals, and a lot of percussion. $16.00
Listen to the track Global Motion from this CD.