TAKAHASHI RYUDO is not a professional musician, but a businessman who divides his time between his livelihood and passion for shakuhachi. He studied and received his master's license in Kinko-ryu shakuhachi from Tanaka Judo in 1970. He now presides over his own school, the Ryudo-Kai in Yamagata and is head mentor of the Garyu-Kai, a society formed to preserve the Fuke (Komuso) shakuhachi tradition.Takahashi learned the entire Fuke repertoire under renowned teacher Uramoto Sekicho and has also studied with Yokoyama Katsuya.
S-T2a. SHAKUHACHI RYUDO [I] Double Album CD $40.00
Twenty-two pieces from Fuke and Kinko honkyoku repertoire.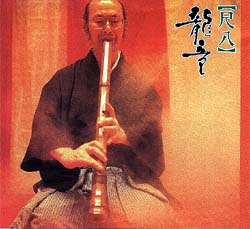 ---
Shipping (USA)
2-Day FedEx (48-hr. to most locations in the USA.) add $10.50 per order.
3-Day FedEx (36-hr. to most locations in the USA.) add $8.50 per order.
Priority Mail via USPS with Delivery Confirmation (3-5 days) add $4.30 per order.
First Class via USPS (7-14 days) add $2.00 per order.
Media Mail-4th Class via USPS (21-28 days) all prices are postage paid - no additional charge.
Shipping (Foreign Countries)
Click here for information.

Recorded Music Menu

Tai Hei Shakuhachi Homepage


Main Menu