S-N3l. NAYZEN [I] CD $19.50
Shakuhachi & Turkish Ney
with Kudsi Erguner
Shakuhachi & the end-blown Turkish reed flute performed by two master players.
Kudsi Erguner, one of the foremost nay masters of our times, is particularly famed for his activities helping to introduce Ottoman and sufi music to the world with internationally acclaimed projects and recordings. He lives and works in Paris as a musician, composer, musicologist, teacher and author.
Erguner comes from a family of Turkish musicians. His contact with many famous musicians from the older generation, who continually passed through his parents house, and his involvement with various Sufi brotherhoods, whose music and teachings Erguner studied, left their decisive marks on him. He received his training directly from his father, Ulvi Erguner, who was the last great master of the Nay. Kudsi Erguner studied also architecture and musicology in Paris, he has given concerts and played in major festivals throughout the world and has researched the music of India, Pakistan and Turkey, grounded diverse music ensembles, recorded numerous albums and has worked with such well known artists around the world.
Erguner is regarded as one of the most important pioneer and contributor to the Ottoman Sufi and classical music as well as to the world music with his original projects.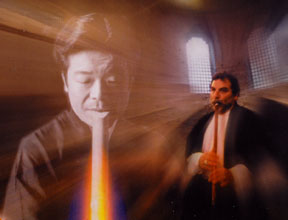 Learn more about these two traditional flutes in Dan Ribble's article on the subject.