Tim Liu
HOW TO PLAY THE DIZI:
A Complete Instructional Course for the Chinese Bamboo Flute
Dizi: 2 Measures at a Time is a comprehensive course for the the Dizi is designed for those who wish to study the Chinese bamboo flute, but do not have access to a teacher of the traditional music. It includes a Chinese bamboo flute made by skilled craftsmen in China, a set of four compact disks as well as an instructional book, special diaphragm skin and glue.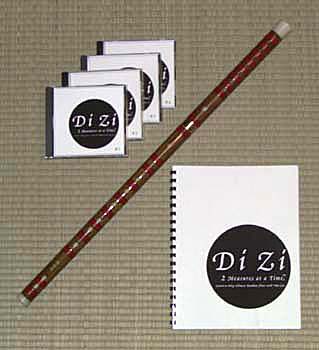 The complete program includes the following items:
o A traditional Dizi made in China. Three grades of instruments are available - the standard model, a flute made from specially-selected bamboo or a professional quality dizi along with a package of reed membranes and bai-chi (a special Chinese herb root used to paste on the membranes). Dizi flutes are available with or without the program of instruction.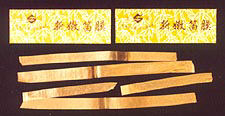 o An instructional book which covers information on the structure and care of the Dizi, how to hold the instrument, reading the traditional notation and numeric scale, how to prepare and paste the vibrating membrane onto the flute. Also included are a fingering chart with three basic practice pieces as well as music notation for nine popular Chinese folk songs in two versions for beginners and intermediate level students.
o Four CDs accompany the instructional guide. These audio demonstrations include three practice pieces and nine Chinese folks songs which are transcribed in the playing guide including explanations of special notations, fingerings and background information related to each piece. The interactive structure of the CDs has Tim Liu playing two measures of each exercise, leaving equal time for the student to play back the demonstrated section. At the end of each exercise is a full accompaniment played by the Chinese hammer dulcimer recorded without the flute part to allow the student to play the fully-orchestrated version for learning or performing purposes.
o Direct help from the author. As part of this comprehensive course, Mr. Liu will personally respond to any questions sent to him by mail, phone or audio tape.
o

Dizi Dimo Video. Dimo selection, pasting, and adjusting is a vital part of Dizi's tone quality, yet lots of beginner Dizi players cover the MoKong (Membrane hole) with all kinds of paper, then wonder "Why does my Dizi sound funny?". This video is boiled down from over 25 years of Dimo pasting experience. In 35 minutes Tim Liu will show and tell you all you need to know about the Dizi's Dimo. For example, did you know that you are supposed to give Dimo a massage before pasting it on? Or that it is necessary to make some wrinkles when pasting the Dimo? This 38-minute video is available in both VHS or DVD.
This video covers the following topics:

Introduction
Why did I make this program?
About Dimo and Mo'-kong
Why is Dimo pasting ability so important to Dizi playing?
Rice paper or Onion skin? That is the question.
Where Dimo come from?
Garlic juice or crazy glue? That is the next question.
Why A-Giao or Bai Chi?
Opening and selecting the right Dimo for the Dizi
Bai Chi preparation
Step by Step - Membrane Pasting
a. Applying glue
b. Cutting the Dimo into a good size
c. Massaging the Dimo
d. Which way to paste it on? Across or Parallel?
e. Pasting the Dimo
f. Dimo sound demonstration
g. Adjusting the Dimo
h. Protecting the Dimo
More about Dimo
a. What affects the Dimo?
b. May I share 2 tips with you?
c. Final words about Dimo pasting and adjusting
PG-14
---
| | |
| --- | --- |
| | Tim Liu was born in Kaohsiung, Taiwan and graduated in 1979 from the College of Chinese Culture in Taipei where he studied "Dizi" (also known as "D'Tzu"), the Chinese bamboo flute with Chen Sheng-Tien and "Erhu" from Li Chen Tung. In 1981, Mr. Liu was awarded the prestigious Best Musician Award in the Golden Lion Bamboo Flute Solo Contest. He has also served as a soloist and was a member of the Taipei City Chinese Classical Orchestra from 1981 to 1983. Since his arrival in the United States, Mr. Liu has been recognized as one of the outstanding masters of the Dizi in this country and was the principal flutist of the Chinese Music Ensemble of New York from 1983-1992. He has been teaching traditional Chinese flute for over 20 years. Mr. Liu can is featured artist on Lyrichord Records "Venerated Patterns of China and Japan." |
---
What other flutists say about this program:
" . . . an accessible resource for composers, creative musicians or anyone interested in the Chinese flute and its music."
- Paula Chan Bing, Player of Western & Asian flutes for the Broadway show Miss Saigon, Educational Consultant for Juillard School of Music and Director of Education for the Queens Symphony
"Tim Liu imports the finest bamboo flutes I have played. U use them often in my work in recording studios and live performance. His four compact disk course should be welcome by any musician, student or professional who wants to learn the Chinese bamboo flute."
- David Weiss, Studio musician and flutist for many Broadway Productions.
"Based upon my experiences concertizing with Mr. Liu, I would highly reocmmend his complete packet for anyone interested in learning how to play the Chinese bamboo flute. He has done a great service by creating this comprehensive and delightful manual."
- Carol Wincenc, Julliard faculty member and flute soloist with major orchestras around the world who has premiered works written for her by many prominent composers.
---
---

Playing Guides Menu

Tai Hei Shakuhachi Homepage


Main Menu