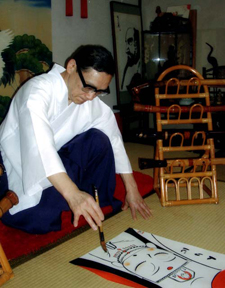 SHAKUHACHI SUMI-E PRINTS
by
Yoshinobu Ryudo Taniguchi
Availalbe matted or unmatted.
Image size of all prints are 9 1/2" wide x 10 3/4" (242 mm. x 274mm.), same dimensions as the original artwork.
Overall size of matted prints are 14 3/4" x 16 1/4" ( 375 mm. x 413 mm.)
Each matted print comes with the following:
A gray Standard Core mat. 4 Ply (.050 - .060) thickness with 45 degree inside bevel
RPB Acid free Backing Board
Clear Traditional Closure Bag to protect the artwork.
Special Introductory Sale Price
SUMI-E PRINTS ONLY
(No Mat or Backing Board. Closure Bag included.)

Number of Prints

Price Each

1-2

$15

3-5

$12.50

6-10

$10

11+

7.50
SUMI-E PRINTS with MAT, BACKING BOARD & CLOSURE BAG


Number of Prints

Price Each

1-2

$30

3-5

$25

6-10

$20

11+

$15
Shipping & Handling additional.
http://www.shakuhachi.com/O-ShipInfo.html