East Meets West
---
Willits News - August 22, 2003

I've lived in the small town of Willits, California since 1970. Many of my neighbors had no idea what I did for a living.
As a result of this article, I'm finally out of the shakuhachi closet.
---
EAST MEETS WEST:
Traditional Japanese Flutes Made in Willits, U.S.A.
By Fae Woodward - Staff Writer
"Arriving in Willits, I discovered that local people here had more wisdom in the tip of a finger than my college professors had in their very big heads," says the former graduate student who came to Willits in 1970 to complete work on his Ph.D thesis.
Once he got here, Monty Levenson soon realized he didn't want to leave, and hasn't yet.
"Sociological theory offered ways to interpret and understand the world, but something was clearly lacking in this approach," he says.
Born in Brooklyn and educated at the City University of New York, the New School for Social Research and Brandeis University in Boston, Levenson was hired to teach at the California Institute of the Arts in Southern California during its inaugural year, but opted to move to Willits instead. He arrived here at a point in his life when understanding with the mind alone was not fulfilling enough.
"When I came to Willits at the age of 24, a product of the '60s, I realized just how little I knew," he says. "To comprehend the world, I felt the need to step out into it. To effectively change the world, I needed to change myself in a fundamental way first."
Today, in the hills above Willits, Monty and his family live in a house he built himself. Located on 80 acres, their rural homestead includes a water system he developed and an alternative energy system incorporating solar and hydroelectricity used to power a home and workshop. At his shop, Levenson makes traditional Japanese flutes called shakuhachi, a line of work he has pursued continuously for 33 years. He is the only maker outside of Japan crafting instruments for traditional teachers in Japan and professional musicians worldwide. He credits the people he met upon arriving in Willits with helping to develop the technical abilities and mindset that underlie his success as a traditional craftsman.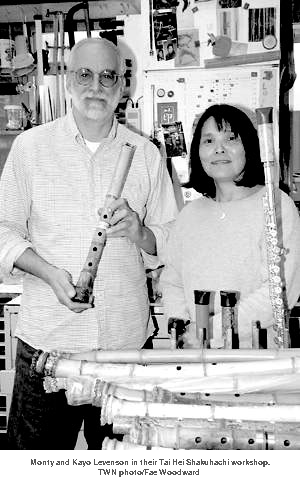 The shakuhachi is an end-blown flute made from the root of the bamboo. The origin of the instrument, according to one theory, has been traced back as far as ancient Egypt and is presumed to have migrated through India and China before entering Japan in the sixth century. Its origins are associated with Buddhist meditation and the flute itself was used as an instrument for "blowing Zen."
At the end of the feudal era in Japan, a group of Samurai warriors turned priests, forbidden to carry their revered swords, redesigned the shakuhachi from the root of the bamboo making it longer and stouter for use as a club as well as an instrument for spiritual attainment.
In 1970, there was very little known about shakuhachi outside of Japan, and there were few if any such instruments available for sale in the U.S. For Levenson, the desire to learn to play the shakuhachi meant learning how to make one. Not an easy task, as the materials used to fabricate and information on design of this deceptively simple flute were very hard to come by.
Of the nearly 1,500 varieties of bamboo in the world, traditional shakuhachi flutes are made from only one. Madaké, as it is called in Japanese, represents only about 10 per cent of all the bamboo in Japan. It is a giant timber bamboo most abundant in fertile lowland valleys. Smaller diameter, denser bamboos suitable for flute making are found only in mountainous regions where the soil is poor and conditions for growth are harsh. While madaké is one of the fastest growing plants on Earth having been measured at over four feet of growth in one day quality bamboo for flute making is exceedingly difficult to find. Exacting specifications demanded by a generations-old traditional aesthetic, which considers size, shape, color, root structure and nodal configuration, combine to make the search for shakuhachi bamboo a formidable one.
Traditional makers in Japan seldom dig their own bamboo any longer, leaving this arduous task to professional harvesters who broker this expensive resource to urban-based craftsmen. Levenson, however, has worked very closely with a Japanese master craftsman of 40 years, named Ginetsu Nakamura, who claims to be the only shakuhachi-maker today harvesting all of his own bamboo.
Nakamura has taught Levenson everything he knows about selecting, harvesting and curing bamboo. With this knowledge, the local flute maker has conducted annual harvests on Shikoku Island in Japan, where his wife Kayo's family resides, and is one of the first shakuhachi makers to bring high-quality madaké bamboo from mainland China to Japan and America.
Harvesting is hard work and can only be done during the coldest winter months when sap in the plant is low. Groves are remotely located in steep mountainous regions. Selection of roots must conform to strict specifications and are difficult to find. After harvesting, each root must be cleaned, heated over a charcoal fire to remove the resin and stored for a minimum of three years during which time many pieces crack.
Finding good bamboo is just the beginning of the challenge faced by traditional craftsmen. While simple in appearance, the shakuhachi is unlike any other ethnic folk woodwind in that it has a precision bore fabricated inside the bamboo. The performance and acoustical qualities of the instrument are largely determined by the ability of the maker to create a highly defined bore profile.
"Accuracy must be within one one-hundredth of a millimeter," Levenson explains, "and the shape of the bore is quite nuanced and eccentric."
Traditional flute makers in Japan labor long and hard to create their instruments by hand, he says. Only a few flutes can be completed over a long period of time, hence the very expensive price for a well-playing shakuhachi. This has kept interest in the traditional music limited to a small number of people who can afford the time and expense involved.
After 20 years in his Willits workshop, Levenson developed a process called the Precision Cast Bore technology whereby he is able to make very high quality shakuhachi in a fraction of the time it takes a Japanese craftsman using traditional methods. His innovative new Tai Hei Shakuhachi are far more precise inside and have a strong resonant sound as well as a subtle intonation prized by professional musicians. Some of the top players and traditional teachers in the world are now using Levenson's Willits-made instruments.
"In addition to coming up with the precision cast bore process, my biggest challenge has been to develop the tools to render that process into real instruments," he states. "When people ask what I do, I tell them that, essentially, I am a toolmaker."
A few years ago, Levenson trained master craftsman Masuda Shuho of Kawasaki, Japan in his method for making shakuhachi and built all the tools for his workshop. Now several other makers are trying to figure out the process which has established a new standard revolutionizing this very traditional craft.
According to Levenson, highly-articulated forms used in the precision cast bore technology are continually updated. These forms, or mandrels, as they are called, are made on a laser tracking lathe built by Levenson and developed in collaboration with Rod Cameron, master Baroque flute maker, who lives in the village of Mendocino. These two Mendocino County flute makers have worked together for over 15 years innovating new technologies related to historical replication of woodwinds.
"Without Rod's great knowledge, teaching and inspiration, I could never have begun to accomplish what I have in the realm of shakuhachi," admits Levenson. The precision cast bore process has attracted the attention of other skilled musicians and respected craftsmen with whom Levenson is now working.
To date, Monty Levenson has made over 5,000 flutes and is now trying to improve the quality and enhance the range of instruments he makes by studying the acoustical physics of woodwind instruments.
"The initial aim of the precision cast bore technology had been to provide decent sounding, finely tuned flutes at an affordable price for folks who were interested in starting out on the shakuhachi," he says. This goal has been accomplished, and now Levenson is interested in expanding the range of possibilities.
Toward this end he has come up with a shakuhachi headjoint for the silver flute which is rapidly gaining popularity worldwide, as well as rare jinashi or long, all-bamboo instruments that are very difficult to make and attempted by only a few makers in Japan. At the other end of the spectrum, Levenson has innovated low-cost beginner shakuhachi made from PVC with laminated bamboo on the outside. "Since I can't harvest bamboo in Willits, I've resorted to 'harvesting' plastic plumbing pipe at Mendo Mill."
While Levenson spends most of his time at his rural homestead outside of town, he also maintains a workshop in Kitagawa, a tiny farming village in Shikoku, the smallest of Japan's four main islands where his in-laws reside. Complete information on Tai Hei Shakuhachi can be found on Levenson's web site at www.shakuhachi.com.
In addition to advances in flute making technology, Levenson has done much to spread information about this remarkable instrument and its beautiful tradition. Starting with an article he wrote in the Whole Earth Catalog in 1971, that distributed three million copies worldwide, his website has become the main hub for access to information on shakuhachi outside of Japan. He has also published several books in English and CDs related to shakuhachi and flute-making.
Tai Hei Shakuhachi, like many in Willits, is a family-based operation. Kayo Levenson, who Monty met in 1984, handles all the bookkeeping and mailing of flutes, books and related items. The Willits-made products are sent all over the world, including Europe, Australia and Asia.
Each of the four Levenson children have taken their turns helping out as well. Mei, the eldest daughter, now lives in the Bay Area where she graduated from San Francisco State University. Yukon, their son, has lived in Japan for over seven years where he works as a school teacher and interpreter. He recently returned home for the summer to begin apprenticing with his father as a shakuhachi maker. Eda has just completed her first years at the University of California in Santa Cruz where she is studying dance and education. Anna, the youngest, is about to enter her junior year at Willits High School where she is an honor student, member of the Peer Counseling program and involved in varsity sports.
---

Table of Contents - Articles

Tai Hei Shakuhachi Flute Homepage