LaVoie du Bambou (The Way of Bamboo)
La Voie du Bambou
19, rue de Conflans F-94220 CHARENTON
Tel/Fax : 33(0)1 43 53 25 60
e-mail : [email protected]
French Web Site: http://shakuhachi.france.free.fr
---
The association La Voie du Bambou [Take no iki no kai] aims at spreading Shakuhachi music. It has been created in 1995. Anyone practising Shakuhachi, wanting to know it better or also wanting the instrument to be known by others can be member of the association. It is indeed, quite difficult for an European person, being isolated, to learn Shakuhachi music, and even more complicated to meet either a teacher or people already practising this instrument. La Voie du Bambou represents a place for the exchange of ideas, practises and various experiences.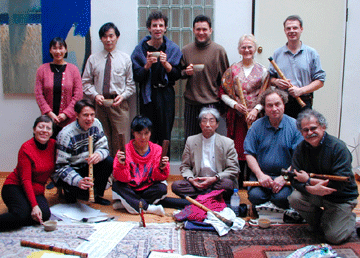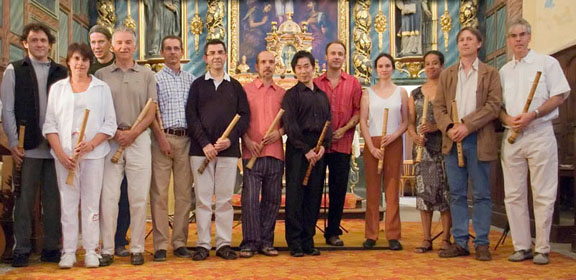 Presently, La Voie du Bambou counts about twenty fiveactive members. Pictured with Teruhisa Fukuda-sensei.
HISTORY
La Voie du Bambou was born from the will of some students of Daniel Lifermann to build an association. Until its creation, diffusion of Shakuhachi in France was something very confidential. In the 80's, Franck Noël (who studied with Katsuya Yokoyama) only had succeeded teaching his knowledge to a small group of persons. He, however, decided to stop teaching in 1988 and asked Daniel Lifermann to continue this work. From 1988 to 1991, Daniel Lifermann had new students and in 1991 he met Yoshikazu Iwamoto. From 1992 to 1998 he organised workshops twice a year under the direction of this great master and meanwhile he continued teaching and promoting Shakuhachi. Since 1998, La Voie du Bambou invited Gunnar Jinmei Linder and Teruhisa Fukuda for regular Master-Classes. At the same time some japanese composers wrote pieces specially for La Voie du Bambou.
Next goal is to gather European shakuhachi players.
PRACTISEOF SHAKUHACHI
Action of La Voie du Bambou works around two main directions :
o Individual and collective lessons for beginners as well as for professional musicians.
o Master classes organised twice a year under the direction of a great Japanese master.
o The association supplies scores and gives advises to beginners about the acquisition of an instrument.
o All musical styles are taught, from Honkyoku to Sankyoku, including also modern music.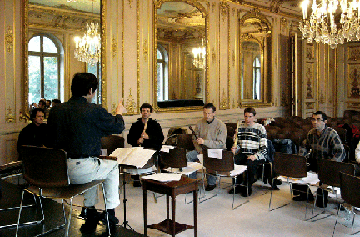 Group lesson with Teruhisa Fukuda-sensei.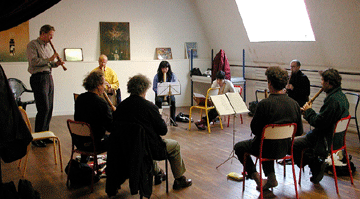 Group lesson with Gunnar Jinmei Linder-sensei.
ORGANISATION OF EVENTS TO PROMOTE SHAKUHACHI

o Introduction of Shakuhachi at school.
o Organisation of concerts and meetings with musicians (Katsuya Yokoyama at La Cité de la Musique, Paris in January 1997) (Teruhisa FUKUDA at Musée du Grand-Palais, Paris October 2004)
o Production of shows : La Voie du Bambou has produced "Je me repose en plein ciel" show for shakuhachi and haiku, created at Evreux national theatre in May 1995 as well as "Les contes du destin" and "Périples", Japanese fairy tales, for storyteller and shakuhachi, created in1997 and 2001, "Ikei no Fu", concert including a piece written by Koji Izumi for 8 members of La Voie du Bambou and Teruhisa Fukuda, Paris Unesco 2001 and Japanese Ambassy in Paris 2004.
Daniel LIFERMANN performed on french Radio France-Musiques and with the ARS NOVA Ensemble in 2003 and 2004.
---

ShakuhachiResources Menu

Tai Hei ShakuhachiHomepage


Main Menu