FOLK
WOODWINDS
FROM PVC
This is second in a new series by the author on making instruments from PVC plumbing products and other commonly available materials. It is dedicated to guiding the individual with enthusiasm and some handiness with tools but only a minimally equipped workshop. It helps the reader set up a shop in practically any environment and selects the necessary tools and materials.
The text, richly supported by photos and clear, three-dimensional illustrations, takes the reader through the basic techniques, then through a series of plans for high quality, well-playing, folk woodwinds. The techniques include shop safety, marking and layout, drilling, finishing of tone holes, fine tuning, outside finishing operations, and many others. These proven plans are for highly popular folk instruments, such as renaissance flutes, kena, military fife, "backpack flute", pennywhistles, panpipe, folk clarinet, and renaissance cornemuse. Interspersed with the technical data are tutorials on how to play the various instruments. Included with this are the fingering charts and sample tunes.
Spiral bound with durable clear plastic covers to lay flat and withstand workshop wear and tear.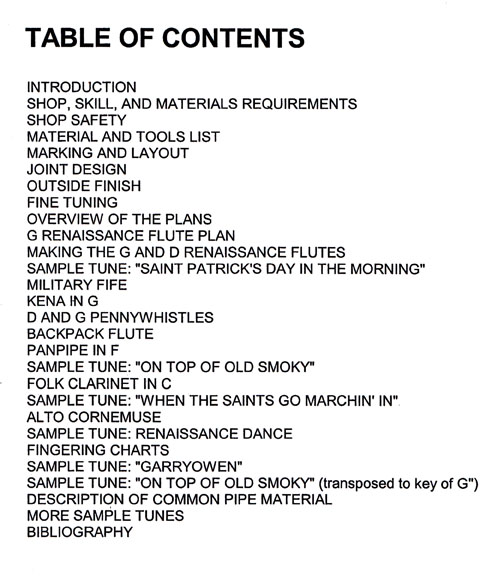 37 pages. CM-27
---
---

Craft Manual Menu

Tai Hei Shakuhachi Homepage


Main Menu