ELIZABETH REIAN BENNETT is the first woman to be certified a Grand Master of the shakuhachi and one of only a hanadful of western players trained in traditional Japanese music. She has studied and performed with Living National Treasure Aoki Reibo, recognized as Japan's foremost shakuhachi instrumentalist, for 25 years.

Reian Bennett has performed frequently in Japan and worldwide; her Tokyo appearances include Tokyo National Theater and NHK, Japanese National TV. Her repertory encompasses the ancient wandering monk solos, classical Japanese chamber music, east-west contemporary compositions and works of her own improvisation. She is active in the Boston area.
SB-3b. SONG OF THE TRUE HAND CD $18.50
Six Honkyoku, a modern piece by Kineya Seiho and an improvisation based on Reian Bennett's traditional training.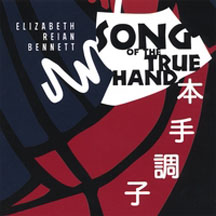 SB-3a. WILD SILENCE C (Cassette Tape Only. Only 5 copies left in print.) $18.50
Kinko & Meian Honkyoku. Themes of nature & meditation.
---