Joshua Geisler

THE CHROMATIC BANSURI:
A Cross-Cultural Guide
to Learning
the North Indian Bansuri Flute

The Chromatic Bansuri is a unique cross-cultural guide to learning the North Indian bamboo flute. This edition teaches everything you need to know about bansuri technique so that you can play any style of music with the soulful and haunting sound of the world's oldest musical instrument.

Topics covered include:
Fundamentals - No prior experience necessary.
Hand Position
Breathing
Embouchure
Tonguing
Tone Production

Fingering System. Fingerings for playing Indian classical ragas in all 12 major scales along with exercises designed to promote technical freedom. Shows the best fingering for any scale, raga, arpeggio or melody by understanding a few key concepts. Teaches the most efficient way for the human hand to interface with the bansuri. More than 50 pages of exercises are given that lead from the beginning to the master level.

Indian Ornamentation. Explores the Indian classical ornamentation techniques Gamak, Meend, and Murki as taught by Pandit Raghunath Seth.

Intonation. Presents everything you need to know about playing in tune and how to bring the subtle beauty of Indian intonation practice into music with chord changes.
"Joshua Geisler's Chromatic Bansuri is an innovative and important resource for anyone seeking to expand their proficiency on the Indian Bansuri bamboo flute. His clear and systematic approach to alternate fingerings opens up numerous possibilities for jazz and world music musicians as well as students of Indian music. I have found this book to be a significant complement to the traditional approach to the bansuri, and it is my pleasure to recommend it."
- Steve Gorn, bansuri virtuoso

Joshua Geisler is a young master of the bansuri, the North Indian bamboo flute. He plays with a flowing, highly ornamented style that effortlessly weaves together Indian classical music and jazz. With solid roots in both East and West, his music is at the same time experimental and grounded in traditional training. The result is a sound that conveys the essence of the mystical traditions of India yet is accessible to modern ears.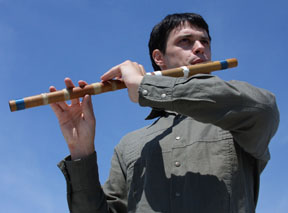 By embracing the concept of hybridization, Joshua Geisler has innovated both the playing technique and construction of his instrument. His book, The Chromatic Bansuri, details a unique fingering system of his own creation that enables the bansuri to play virtually any style of music. As a flute maker, he has improved the tone, volume, and response of the bansuri by studying flute-making techniques from around the world and the mathematics governing the process.

While studying guitar at Berklee College of Music, he developed an interest in the music of other cultures. At the same time, he was beginning to explore meditation and spirituality. As a way of incorporating these interests, he began learning the bansuri. After graduating in 1998, he moved to upstate New York to study North Indian Classical music with the great American bansuri master, Steve Gorn. This was followed by multiple trips to India to study with Pandit Raghunath Seth, one of the living legends of Indian flute playing. In recent years, he has been learning with Varanasi-based Sarod maestro Pandit Vikash Maharaj, a 14th-generation master musician.
An award-winning artist, his work has received funding from the American Institute of Indian Studies and the New York State Council for the Arts.
An unusually versatile musician, he has worked with many great artists in various genres. He has performed with several masters of Indian Classical Music such as: Pandit Raghunath Seth, Steve Gorn, Pandit Vikash Maharaj, Fazal Qureshi, Samir Chatterjee, Prabhash Maharaj, Sabir Khan, and Ramesh Mishra.
144 pages. PG-22
---
---
---