This volume, published in Japan, is by far the most comprehensive playing guide and history of the shakuhachi to come out thus far. Divided into two parts, it includes a complete playing manual which begins with information on bamboo and flute making techniques and goes on to discuss structure, care and handling of the instrument. There are chapters which explain fingering, ornamentation and reading the traditional Kinko Ryu notation. The second section of the book is a well-researched history of the shakuhachi. It is translated by Blasdel and adapted from a work by Yuko Kamisango, a recognized authority on Edo Period music in Japan.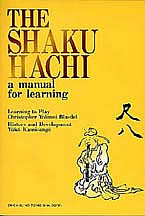 THE SHAKUHACHI: A MANUAL FOR LEARNING was originally published twenty years ago by Ongaku no Tomo-sha, Japan's leading music publisher. It went through six printings and can still be found in many libraries, both public and private, around the world. This new version, published by Printed Matter Press, Tokyo, has been greatly updated, revised and made more affordable for shakuhachi enthusiasts. The new additions include the practice exercises re-written in easy-to-read computer generated fonts, a section on modulation in shakuhachi music, and a new chapter entitled, "Walking on its Own," a comprehensive and up to date treatment of contemporary shakuhachi history. There are also many new photographs and diagrams as well as listings of published music and places to purchase or have shakuhachi repaired.
Several practice exercises are provided in a separately-bound supplement written in both Japanese cursive and western notation. These exercises include folk songs, children's music and classical shakuhachi pieces which are recorded on an accompanying CD.
Also included are appendices of music publishers and stores selling shakuhachi flutes as well as a bibliography and complete index. Many photographs and illustrations.
---
Chapter and Subsection Titles
Preface to the New Edition
Preface to the First Edition
Part I - Learning to Play
1. The Materials
- The Bamboo Metamorphosis: from 'Simple" to "Sublime"
2. Varieties of Shakuhachi
- Origin of the Name: Shakuhachi Length and Pitch
- Styles of Shakuhachi Playing
- Choosing a Shakuhachi
3. Structure, Handling and Care of the Shakuhachi
- Description of the Shakuhachi and its Parts
- Accessories
- Basic Handling
- Holding, Posture and Breathing
- Special Characteristics of the Shakuhachi as an Instrument
4. Producing a Tone
5. Basic Notes
6. Rhythm, Beats and Counting
7. Fingering Practice
8. Playing Consecutive Tones: Finger Tonguing
9. Playing the Upper Register: Kan
- Producing the High Tones
10. Meri & Kari, Changing Pitch with Blowing Angle, Lips and Half-holing
- Chu-meri
- Full Meri
- Kari
11. Analysis of Japanese Scales
12. Standard Shakuhachi Ornamentation: Patterns and Phrases
13. Practicing with the Classics
- Deciphering the Traditional Cursive Notation
- Pointers for Playing Kurokami
- Pointers for Playing Rokudan
14. Modulation Techniques in Sankyoku
15. Thoughts on Training and Practice of the Shakuhachi
Part II - The Shakuhachi—Its History and Development
1. Types of Shakuhachi Found in Japan
2. Ancient Shakuhachi
- in the Tang Dynasty
- The Gagaku Shakuhachi
3. The Shakuhachi of the Middle Ages
- Origins of the Shakuhachi as Seen in the Taigen-sho
- The Rise of Mendicant Shakuhachi Players—The Komoso
- The Tempuku—Fossil of the Ancient Shakuhachi
- Hitoyogiri—Shakuhachi Prototype of the Middle Ages
4. The Edo Period Shakuhachi
- The 16th Century and its Impact on the Development of Japanese Music
- The Miyako Bushi Scale and the Demise of the Hitoyogiri
- Development of the Root-end Shakuhachi
- Development of the Shakuhachi as a Tool for Zen Meditation
- Origins of the Fuke Sect—Fact and Fantasy
- The Kyotaku Denki Disproved: Nakatsuka Chikuzen's A Historical View of the Kinko Shakuhachi
- Political Intrigue—The Fuke Sect and the Tokugawa Government
- Nakatsuka's Theories on the Rise of the Fuke Sect
- Komoso Sects and Komuso Temples
- The Fuke Sect's Suizen (Blowing Zen): the Lifestyle and Music of the Komuso Monks
- The Shakuhachi and Early Ensemble Playing by Laymen
- Public Shakuhachi Studios and the Beginning of the Kinko-ryu
- The Demise of the Fuke Sect—Misuse and Forfeiture of their Special Privileges
- Shakuhachi of the Late Edo Period—Rise of Individual Schools
5. The Modern ShakuhachI
- The Banning of the Fuke Sect and the Transition from a Ritual to a Musical Instrument
- Various Schools of Myoan Shakuhachi and Their Development
- The Kinko-ryu and its Emphasis on Musicality
- The Tozan-ryu and Ensemble Playing in the Kansai Area
- Chikuho-ryu—Gaikyoku and Suizen Combined
- Conclusion
Part III - The Shakuhachi—Walking on its Own
Appendix
List of Shakuhachi Resources (Music, Instrument, Accessories, etc)
- Chikumei-sha
- Chikuyu-sha
- Dainippon Katei Ongakukai
- Kinko-sha
- Meijiro Co. Ltd
- Tai Hei Shakuhachi
- Perry Young Flutes
Practice Pieces (Traditional katakana tablature notation)
- Practice Exercise No. 1: One Tone, One Breath
- Practice Exercise No. 2: Basic Pitches and Rhythms in Metered Time
- Practice Exercise No. 3: Fingering Practice with Changing Tones
- Practice Exercise No. 4: Osu Fingering Tonguing
- Ichiban Boshi, Yuyake Koyake, Kagome Kagome
- Practice Exercise No. 5: Ryo & Kan Registers
Edo no Komori Uta, Phoenix Village, Osaka Komori Uta, Auld Lang Syne, Arirang
- Practice Exercise No. 6: Chu Meri
Akatonbo, no Ko, Domino Fidelum Motet
- Practice Exercise No. 7: Meri
Sakura, Defune, Kuroda Bushi, Chogoku Komori Uta, Kazue Uta, Furusatono, Hakugetsu, Russian Folk Lullabye, Soshunfu, Sogen Joka, Ode to Joy
- Practice Exercise No. 8: Kurokami
- Practice Exercise No. 9: Rokudan no Shirabe
- Practice Exercise No. 10: Chidori no Kyoku
Practice Pieces (Same pieces as above referenced with stave notation)
Kinko-ryu Tozan-ryu comparative Fingering Chart
Index
200 pages. PG-1
---