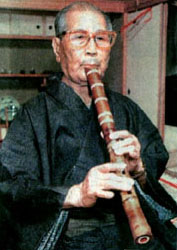 (1901-2001)
Shakuhachi "Living" National Treasure
---
In 1919, at the age of 18, Shimabara Hanzan became Nakao Tozan's student.
In 1938 he became Daishihan and then in 1941 was awarded "Chikurinken", which is the highest title of the Tozan School. After the war, in his utterly devastated hometown of Hiroshima, where many of his relatives and friends died, he determined to make Shakuhachi his career. He continued to live in Hiroshima and worked tirelessly aiming to contribute to the cultural recovery of his beloved Hiroshima.

He was the National President of the Japan Shakuhachi Association and despite his advanced age, he performed and taught energetically until his death on 15th Dec 2001.
In 1995, whilst rehearsing for a concert for the Hiroshima Arts Festival, he was informed that his son, "Kanzan" also a Daishihan, had just died. Hanzan didn't want to disappoint the audience, so insisted on continuing. He then took on the task of teaching all his son's students. Often lessons, conducted once a week, would start at 6pm and go to 1am the next morning. When students had left, Hanzan would continue to practice. He also had a keen interest in calligraphy and art and attended many exhibitions.
In 1999, a special concert was held for his 100th birthday. This was also recorded by NHK TV. Hanzan then was actually "only" 99, but according to the old Japanese system of counting, the day he was born is year one. At the concert he performed with the late "Kikuhara Hatsuko" on Koto. She was also 99 and a living National Treasure.
Hanzan Shimabara was a strong believer in exercising as part of improving the Shakuhachi player and every day he would do weight lifting. Whilst believing in regular healthy exercise, he was known to enjoy his food. After his 100th year concert he enjoyed a huge Chinese banquet. Also when he was in hospital last November, he ordered a big juicy steak to be delivered to his room.
Hanzan's last public appearances included last year's Atom Bomb Memorial Day Ceremony, where his students played his composition "Heiwa no Sanga", dedicated to the Atom Bomb victims with his cherished desire for everlasting world peace.
May he rest peacefully and his vision for world peace comes true.
Ross Allen & Hiromi Fukuda Allen.
Melbourne, Australia 15th Jan 2002
A translated extract from the Chugoku Shimbun and one of his students "Umeda Zenzan"
Many thanks for permission to use their articles.