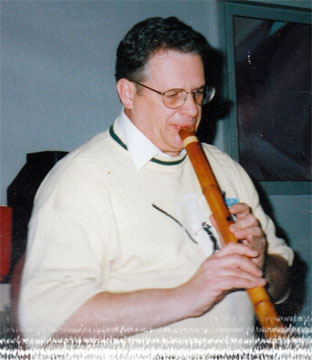 My dad was born and bred in the Wicker Park neighborhood of Chicago. Since he was a child he was fascinated with Asian culture. After serving in the United States Marine Corp in Vietnam right after high school he was, by chance, sent to Yokosuka, Kanagawa-ken, Japan to the Yokosuka Naval Air Station. He was suppose to be sent to San Diego, but became ill and the request he made to go to Japan came.
While at the Yokosuka Naval Air Station he met my mother, 10 years his senior. He was taking Japanese language classes at the time and practiced his Japanese with my mother. While dating my mother he moved into an small apartment in Oppama, 5 minutes from where my mother and her family still live today. One day he heard a lovely sound coming from one of the neighbors houses and asked my mother what it was. He started immediately taking shakuhachi lessons from Murata-sensei in the Kinko Ryu style. This was in 1968.
After getting married to my lovely mother, Yahoko, having two kids Akiko and Kaoru Mark, they had to return to Chicago. He continued practicing his shakuhachi every day. He worked as a dental technician but his real love was his shakuhachi. He started giving private lessons, he only charged for the first lesson and then just couldn't take his students money because he loved teaching someone else to play the instrument he loved so much.
He played annually at the Chicago Botanic Gardens Japan Day and in the last couple years played solo in the Japanese Gardens. He played with the Chicago Koto Club, the Museum of Science and Industry, The Art Institute of Chicago, at libraries, a party that either Oprah threw or was at, volunteered his musical talent at nursing homes and various other venues that are too numerous to name.
On trips to Japan he would often hike (the other thing he loved to do) with his shakuhachi and play it along the way. I grew up with the sound of the shakuhachi throughout the house, I always knew my father was a very talented man. He was very proud to know how to play this instrument and no matter who would ask a question regarding the shakuhachi\curious child, man, woman, teenager\he was always eager to give them an answer.
In October, 2006 my father suddenly passed away. He died of a massive heart attack. He was only 60 years old. At his funeral, we had one of his students speak, Fred Levine. Fred could not stop crying, he was so sad. They practiced together every Sunday at 10am for a couple of years. He spoke of how they would play in front of the open window and how birds would stop and chirp along with their playing. After my fathers death we gave all of his sheet music to Dr. Levine and another student and kept just a couple of his favorite for his memory.
Eight months after his death, when my son was in the hospital one of hospital employees who came to his room frequently said he lived near us. He also mentioned "flute" music and how beautiful it was and that he doesn't hear it anymore. I told him that is my father. Our house is now quiet, we yearn for the sound of my father playing the shakuhachi, even if we can't hear the tv because of it.
Akiko Elizabeth