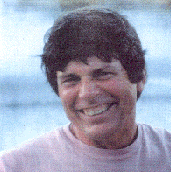 April 1940 - May 1996
Past president of the American Bamboo Society, founder and creator of Bamboo Sourcery-- whose love of life, art and bamboo-- and whose generosity of spirit blessed many people around the world. We miss you dearly and are committed to keeping your life work of Bamboo Sourcery alive and well.
Bamboo Sourcery is a unique resource on the California north coast. It is the creation of the late Gerald Bol whose tireless efforts on behalf of bamboo propagation are manifested in this remarkable nursery. Gerald had served as president of the American Bamboo Society in northern California and traveled extensively throughout the world collecting rare and endangered species of bamboo which have found a home in his beautiful garden. I first met Gerald in the south of France while we were both attending a Festival of Bamboo in 1989. What a surprise it was to discover that we lived 80 miles from each other. Since that time we had become good friends and have collaborated on a joint venture to cultivate a grove of madaké (used for shakuhachi flutes) on my property in Willits. All lovers of bamboo mourn Gerald's untimely passing, but are heartened to know that his love and inspiration at Bamboo Sourcery continues to flourish.