- Ronnie Nyogetsu Seldin
---
"One of the great things about the shakuhachi community is that is IS a community, what the Buddhists call a sangha-- a group of people united not by a belief system by by a practice, a discipline, a way of engaging with the world. We have our differences, but they seem trivial compared with the solidarity of this community, in which people at all levels and from all lineages mingle quite freely and respect each other quite deeply.
"Bill Atwood was a great believer in sangha. He lived for sangha, and his sangha was large. It included the American Zen community, the shakuhachi world, and later the Tenrikyo people. It also included the church of Charlie Parker and John Coltrane, and the brother and sisterhood of latterday hipsters who look back quizically at a utopia that should have been. Not that he regretted the state of the world--he had great compassion for its confusion and found it endlessly amusing. Anyone who was lucky enough to receive his rather bizarre koan-like emails understood right away what it means to mix compassion with humor.
"It's wonderful that people are playing Banshiki for Bill's memorial. It was one of his favorite pieces, right up there with "Take the A Train" and "'Round Midnight." He had even played Banshiki at Auschwitz when on a pilgrimage there with his Zen teacher Bernie Glassman. If you don't know Banshiki, I would urge you to play anything you like in memory of Bill, anything from otsu RO to "Giant Steps." Bill would have liked the sound, and the idea, of everyone playing something different anyway."
- Phil Nyokai James
---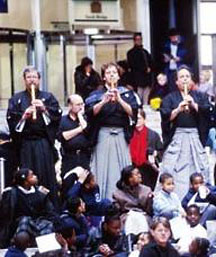 (l to r) Bill Atwood, Jim Schlefer, Ronnie Seldin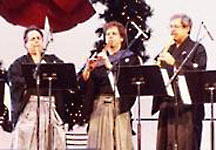 (l to r) Ronnie Seldin, Bill Atwood. Jim Schlefer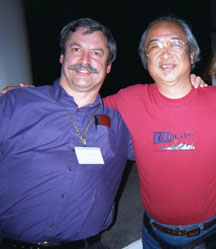 Bill with Yokoyama Katsuya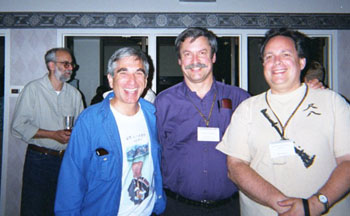 Bill with Ronnie and Bob Avstreih. Monty Levenson in the background.