The Shakuhachi Society of the Long River was formed in the fall of 1992 as a response to an increase in the number of people interested in learning the shakuhachi in the greater Pioneer Valley of western Massachusetts. Part of its motivation was to strengthen the sister-state relationship between Hokkaido, Japan and the Commonwealth of Massachusetts.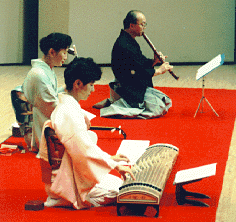 The Society's goals include helping members learn to play the shakuhachi for pleasure or for performance, to educate each other about the history of the shakuhachi and related traditions, and to learn about ourselves and each other through the process of learning the way of the shakuhachi.
Seizan Nakajima in concert. Hokkaido, 1992
We take our name from the Connecticut River, which flows through our region. The name of this river was originally "Quonektakcut' or "long river" which was the word used by the Algonquin people native to this region. As we explore the shakuhachi tradition, we also recognize and celebrate the various other traditions - rooted here and elsewhere - that have influenced each of our musical cultures.
Our Society is the sister-society of Seirinsha, a Shin Tozan Ryu society in Sapporo, Japan, headed by Sapporo Cultural Treasure, Seizan Nakajima. Nakajima Sensei makes yearly visits for instruction and performance. Members of the Society have travelled to Sapporo for instruction and performances. Our repertoire includes the honkyoku and sankyoku of the Tozan Ryu. We publish a newsletter twice a year.
For further information please feel free to contact:
Mary Ellen Miller, P.O. Box 644, Belchertown, MA 01007-0644
Chris Stetson, 4 Nonotuck St., Florence, MA 01060
Elise Springer, 1B Old Mill Court, Eagleville, CT 06268
---

Shakuhachi Resources Menu

Tai Hei Shakuhachi Homepage


Main Menu