Welcome to
Wind & the Lion
Web Site of Shakuhachi Player
Leo Hansen

---

7415 Columbus Avenue South
Richfield, MN 55423
Tel: 612-869-4174 cell: 612-834-1618
leobhansen@msn.com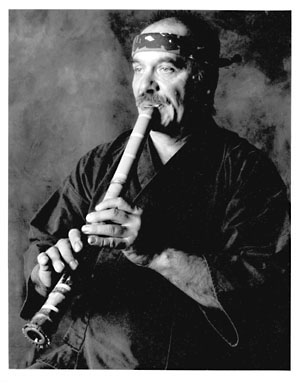 Leo Hansen is a shakuhachi player who performs and teaches in Minneapolis, Minnesota. While enthusiasm for shakuhachi is concentrated on either coast of America, Leo holds up the middle and is a fixture in the "frozen tundra" of the North Country. He will soon be releasing his first recording of shakuhachi honkyoku and folk songs appropriately entitled "Snow Blower". Leo is available for lessons and concerts as well as to those in the Sister Cities who would like to learn more about shakuhachi.
Venues
There are very few shakuhachi players in Minnesota. As a result, I have been able to perform for just about any type of event that calls for Japanese music. For the past six years I have been a regular performer for the Normandale Community College's annual Japanese Garden benefit. The past three years I have played at the St. Paul Como Park Japanese Lantern Lighting Festival which attracted over 5,000 people last year. I also play at the Minneapolis Institute of Arts several times a year for various functions. For the past two years I have been playing shakuhachi at many weddings in this area. I also had the wonderful opportunity to play several pieces during an Advent service at the College of St. Thomas's beautiful chapel. In the Fall of 2000, I provided music for a locally produced Kabuki play called "The Road to Kyoto".
How I Discovered the Shakuhachi
I returned from a three week vacation in Japan in October of 1992. While I was there, I had the opportunity to meet a shakuhachi maker in Takamori and take a lesson from a teacher in Kyoto. Also, I was able to play my shakuhachi in front of junior high students, teachers and people who lived in a small farming town. Most people in Japan do not even know a person who plays or have ever heard the music played live. They were astounded that a foreigner came to visit their country and could play Japanese music on a Japanese instrument.
The question most asked by them is how I decided to start playing the shakuhachi. I've always enjoyed the sound of flute music, any flute music, but I've never been musically inclined. Around 1980, there was a Public Television broadcast of a Carl Sagan series called "Cosmos". In one part of the series was a story about the evolution of Heike crabs in Japan. The background music was a Japanese flute. There was something about the sound at that moment that I'll never forget. It was very different and very beautiful. Later that year I purchased a copy of the soundtrack to the series being that it was filled with classical music, which I love. And then, on side 1, I heard this flute again and looking at the record sleeve I read that it is 59 seconds from Traditional Japanese music called "Depicting the Cranes in the Nest" by a person named G. Yamaguchi. It instantly became my favorite track on the album although it was less than a minute long.
Several years later while browsing in a record store I saw an album called "A Bell Ringing in the Empty Sky" by Goro Yamaguchi playing a shakuhachi. Finally, I had a name for this Japanese flute I had been hearing, although it did take some practice before I could pronounce it correctly. I bought the album and listened to it over and over again. What strangely beautiful music, I thought. Wouldn't it be great to learn how to play this instrument?
Again, time had passed before I came across several advertisements in an East-West health magazine. It seems that there were people in this country who made shakuhachi. I immediately sent for the brochures. After receiving the pamphlets I had decided that the guy who lives in Willits, California had impressed me the most with his brochure. After calling him on the phone, he told me that he could have in my hands in less than two weeks, a beginners shakuhachi for only 40 dollars. That seemed like a lot of money for a piece of bamboo. And, I didn't even know if I could play it. Anyway, two weeks later my new shakuhachi arrived in the mail. It sure did look nice. I had also ordered an instruction manual since there are no teachers up here on the frozen tundra. A week later I was saying to myself "This one must be defective. I've been blowing on it for a whole week and can't get a note out of it". "Perseverance," I said. Suddenly, I played my first note. But wait! This note didn't sound like any crane in any nest. I read the instruction book again. It stated ". . .you should be motivated and fairly self-reliant" to learn this instrument. I kept playing. At first, about 15 minutes a day was all I could play before getting dizzy. Then a little more each week as I started to learn the basic melodies of the folk songs in the instruction book. That was several years ago and now I'm playing 2 hours every day and playing music I perceived as extremely difficult when I started.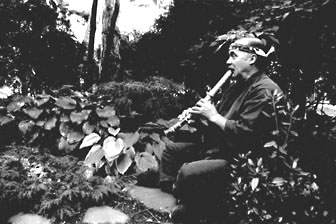 There was a certain point several years ago that I realized that the vacuum which had been in my life was now being filled by playing the shakuhachi. Maybe, by blowing through this piece of bamboo, I was filling the empty space with these musical notes.
Playing has become a habit which I look forward to every day. I work as a cook in a very busy restaurant in Minneapolis. And, after a pressure filled day, I can come home and just by playing several warm-up notes on the flute, feel relaxed and centered. The act of practicing the flute has become very important to me. At work, if I cut my finger with a knife, my first thought is "Will I be able to practice on my shakuhachi today?"
I never though that blowing air through a simple piece of bamboo could mean so much to me as it does. Yet, it is a difficult instrument to play and it seems that the more I play, the more there is to learn. And I still ask myself the question that people have asked me. "Why did I decide to play this instrument?" And I always answer "Because it has such a beautiful sound."
Learning was very difficult without a teacher, but, it gave me great satisfaction to accomplish this on my own. After two years of practice, I took my first lesson from Yoshiro Kurahashi-sensei in Kyoto. Since then, I have tried to hook up with a qualified teacher at least once a year for guidance. The teachers I have taken lessons from are: Yoshiro Kurahashi, John Singer, Robin Hartshorne, Masayuki Koga, Ronnie Seldin, Barry Weiss, Debbie Danbrook and Philip Gelb. I was fortunate enough to be able to attend the World Shakuhachi Festival in 1998 in Boulder, Colorado. It was a wonderful experience to be among so many excellent teachers and players.
---
---

Comments & Reviews About Leo Hansen's Shakuhachi Playing
Go to Photo Page

| | | |
| --- | --- | --- |
| 1 | 2 | 3 |
---

Tai Hei Shakuhachi Homepage


Main Menu