Wind & the Lion
Leo Hansen
Shakuhachi Player

---

Comments & Reviews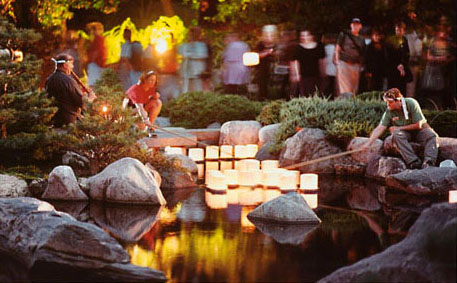 Como Park Japanese Garden Lantern Lighting Festival
"I heard Leo at the opening of a Zen calligraphy exhibit at the Minneapolis Institute of Arts and was very impressed with his flute playing and his warmth and genuine interest in discussing the music. At St. Mary's students enjoyed the combination of performance and discussion, the variety of different pieces Leo played, and his understanding of the relation of flute meditation to other forms of Zen practice. Students and faculty were delighted and found the music evocative and soothing. I would highly recommend Leo Hansen as a performer and presenter in any educational setting in which a thoughtful approach to Eastern music and meditation is required. It is a unique cultural experience not to be missed!"
-Dr. Jane Kelley Rodeheffer-Lasallian Honors Program/St. Mary's Universtity of Minnesota
"The soothing, etheral quality appeared to permeate the lighting of the lanterns ceremony and elicit a respectful response from participants."
- Roberta Sladky- Director of Como Park Conservatory and Japanese Garden
"We needed Japanese instrumentation to accompany a Kabuki performance. Leo went beyond simple accompaniment, his flute actually became a performer in the show, melding with the actors and dance pieces. He can make his flute bounce and bubble for light comic scenes as easily as he makes it wail eerily in desolate scenes"
- Dr. Kathy Welch- Kabuki Director
"His past performances were authentic and well received. Leo is highly professional and dependable".
- Susan Jacobsen- Minneapolis Institute of Arts
"A perfect fit with what our moon viewing event is about, quality, easy to work with and extremely talented. A unique, moving experience".
- Janell Stevens-Minnesota Landscape Arboretum
"His music complimented my images (Japanese Gardens), but, I chose him because of the high level of his musicianship. Leo performs with depth of feeling and beauty. He makes this difficult instrument sound haunting and lyrical and the music is tranquill and soothing to the spirit. It is a rare treat to hear someone play the shakuhachi this well, here in Minnesota".
- Rebecca Pavlenko-Professional Photographer
"Well, when I think of hearing the music, I find myself smiling and breathing easily. It felt good".
- Nedira Haik- Event Coordinator-Clouds in Water Zen Center
"Leo's shakuhachi melodies add a great deal to the atmosphere as one strolls through our Japanese garden. All the cares and stresses of the outside world are left outside as one enters through the gate, and the relaxing, contemplative feeling one attains is enhanced by Leo's lovely shakuhachi music".
- Shirley Huskins-Normandale Japanese Garden
"Thank you for performing at my opening Leo. You helped make the evening successful by assisting with establishing the mood for the evening".
- Chad Manbeck-Artist
"I heard Leo perform at another reception and knew he'd be perfect for our event. He provided the perfect musical backdrop to our book signing and reception."
- Jerod Santek- The Loft Literary Center
"Leo's music perfectly fit the ambience of the Japanese audience hall"
- Elaine Haydock-Minneapolis Institute of Arts event co-ordinator.
"For the past ten years, Leo has provided the hauntingly beautiful music of the shakuhachi for Asian art events held at the Minneapolis Institute of Arts. He delivers consistently high quality performances and nicely varied programs. The unobtrusive nature of the shakuhachi makes it appropriate both as background music and as an independent event".
- Dr. Matthew Welch- Curator of Japanese Art at the Minneapolis Institute of Arts.
"I heard Leo at three other performances and really enjoyed his music. I thought it would be perfect for our reception. The selection of music was the right mood and tempo for our event-relaxing".
- Diana Houston- Hennepin County Public Affairs.
"I enjoyed his competence and obvious love of the instrument".
-Addie Ingebrand-WAMSO-Minnesota Orchestra Volunteer Association.
"Leo is a great artist-but mostly I think we appreciated how much love and respect Leo has for the instrument and the music. His presentation was such as to make us all love the music more."
-Patricia Katagiri-Instructor-Yukimakai-Tea ceremony school.
---
Contact Information
Leo Hansen
7415 Columbus Avenue South, Richfield, MiN 55423
612-869-4174
leobhansen@msn.com
---

Leo Hansen Homepage
Go to Photo Page

| | | |
| --- | --- | --- |
| 1 | 2 | 3 |
---

Tai Hei Shakuhachi Homepage


Main Menu