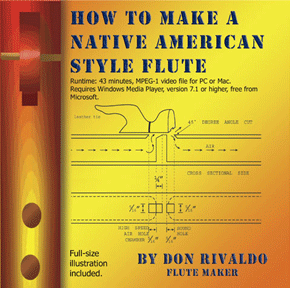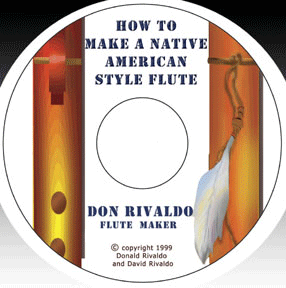 Don Rivaldo
HOW TO MAKE A NATIVE AMERICAN STYLE FLUTE
Complete instructions on how to create a quality Native American flute. This detailed video will take you, step-by-step, throught the process of crafting a cedar six-hole Native American flute in the key of F#. The important techniques of rip-cutting, routing, shaping, chiseling, sanding, gluing and staining, as well as tool tips and other techniques are covered with care and precision. The video uses a "see and do" style of teaching, making you feel like Don's apprentice each step of the way. Beautiful flute music can be heard throughout the video including "Zuni Sunrise" by Charles Littleleaf and background samples performed by David Rivaldo on a Rivaldo flute.
This CD-ROM is playable on both a PC or Macintosh computer.
To view the video on your PC, you must have the Microsoft Windows Media Player version 7.1 or better, free from Microsoft. Mac owners can use Quicktime Movie Player (TM) for Mac.The video file is a MPEG-1 file.

Included with the CD-ROM is a full-size illustration depicting the hole placement. No complicated formulas to figure out. Don Rivaldo makes it easy for you to make a flute of your own.
43 minutes. CM-29V
---
Price of Video /
Ordering Information
---
---

Craft Manual Menu

Tai Hei Shakuhachi Homepage


Main Menu