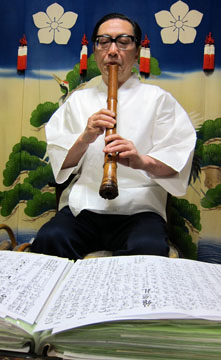 "I have known and worked with Monty Levenson and his wife Kayo for 25 years. Recently, they came to visit me in Japan for the first time in many years. Monty made a gift to me of a shakuhachi (1.8') that he had worked on for a long time, and it is truly an excellent instrument.
I play all kinds of shakuhachi music, from classical honkyoku to Kinko-ryu, minyo (folk), and new music. I also know about 25 professional shakuhachi makers here in Japan, who make Kinko-ryu, Tozan-ryu, Fuke-Meian-ryu, Watazumi-do, Ueda, or minyo flutes. The problem with the flutes made by these makers is that they are only suited for playing songs in their particular style. Top players in Japan, too, can only play songs in their style, because if they attempt to learn other styles they will often be banished by their teachers. I have been fortunate enough to learn from teachers of many styles. The flute that I received from Monty was perfectly suited to any technique in any of the shakuhachi styles, making it an extremely rare instrument. Excellent shakuhachi can excel when playing either soft or loud, meri or kari, and Monty's shakuhachi was such a one. Thank you Monty!
Yoshinobu Taniguchi
One of the foremost living masters of shakuhachi in Japan today. In addition to having studied under three great pillars of shakuhachi - Aoki Reibo, Yamaguchi Goro and Yokoyama Katsuya - he has also mastered the playing styles and repertoire of many other shakuhachi sects. Taniguchi-sensei is a recipient of the transmission of Koden Honkyoku through Watazumido Shuso and Yokoyama Katsuya. He has received several honors for his work in Japan including acknowledgement as top performer at the Osaka Geijutsu Sai. He was also given the honorary title of Sen Shin Kutsu Dai Shihan at the young age of 32, a title usually reserved for senior "ambassadors" of shakuhachi.