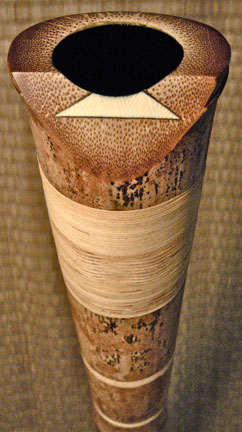 Kinko-style Utaguchi made with Mastodon Ivory bordered with 14K Gold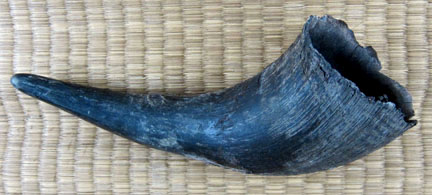 Water Buffalo Horn is also used for the utaguchi inlay
Tai Hei Shakuhachi are made using a variety of materials for the utaguchi or mouthpiece inlay. To preserve the delicate mouthpiece of the instrument and prevent deterioration over time, a hard dense material is inserted at the blowing edge. Water buffalo horn is traditionally used for this purpose, however, it is prone to deterioration so modern makers increasingly use and prefer specially-formulated cell cast acrylic for this purpose. Ivory is also an option.
Tai Hei Shakuhachi are made without the use of elephant ivory or tusk, teeth, horns or other material banned and prohibited under CITES (Convention on the International Trade of Endangered Species).
Only prehistoric mastodon ivory is used as it is permitted under this international agreement. Until the end of the Pleistocene (10,000 - 11,000 years ago) when they became extinct, mastodon ranged over North and Central America. Throughout their long reign as species, innumerable individuals died and were buried in mud, ice or peat. These artifacts, although not mineralized in the true sense of fossilization, have been preserved, and due to erosion, geological events or mining have been, and are being, unearthed and used as ivory sources.
Like all elephant ivories these show distinct structural properties which result in a layered structure in longitudinal section and a cross hatched pattern in cross section. This characteristic called the "engine turned" effect is diagnostic of elephantine ivories and absent in all other forms. These ancient ivories sometimes have acquired unusual colors through long contact with minerals and mineral solutions.
Such materials are not prohibited by CITES (Convention on the International Trade of Endangered Species), as indeed the species are already extinct. In the US, digging for anything on public lands is restricted by Federal land management agencies, but in Alaska, Canada, Greenland and Siberia, Inuits and other native peoples have been greatly benefited by the ability to harvest, fashion, and trade these items on the world market.